The Secret Origin Of 'Exit Through The Gift Shop:' Extortion, A Lawsuit And A Dilettante?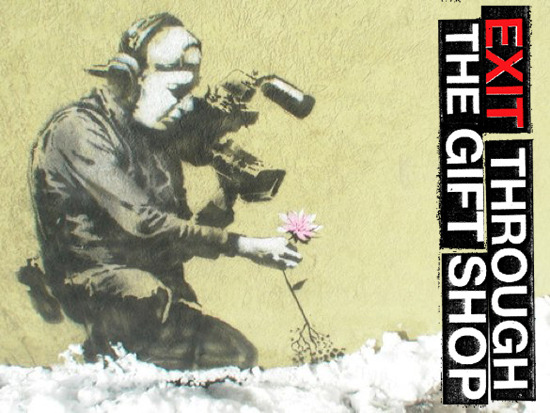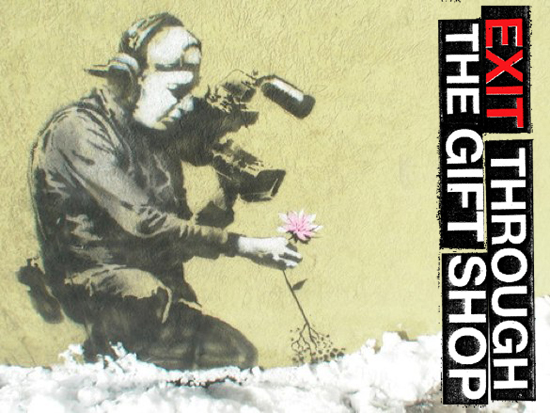 Exit Through the Gift Shop, the street-art documentary credited to Banksy, was one of the best films of 2010, and also one of the most challenged on the basis of authenticity. The film purports to chronicle the street art of Banksy and Shepard Fairey through the lens of a camera held by wealthy dilettante artist Thierry Guetta. At least that's the basis for part of the film, before Banksy turned the cameras on Guetta as the latter became a wannabe artist named Mr. Brainwash.
Is the film 'real'? Is Mr. Brainwash an actual practicing artist or part of a long con perpetrated by Banksy for the purpose of documentary satire? The story is so strange some assumed it couldn't be true.
Now Ron English, another street artist with connections to Banksy, says the film is definitely real, and that it was born when Guetta refused to turn over hundreds of hours of video he'd shot of Fairey and Banksy in action.
Ron English talked to the Herald-Review in Decatur, IL. In addition to discussing a mural he worked on recently in the town, he talked about Exit Through the Gift Shop. Much of his conversation concerned Guetta, who English insists is absolutely real. He explains that the origin of Exit Through the Gift Shop is rooted in Guetta's initial refusal to share his footage with Banksy and Fairey:
Here's what actually happened: When we first met Thierry, he was supposed to be making a movie about Shepard. He was filming Shepard all the time, wherever he went. They made a deal, 50/50, we'll make a movie. They shot for five years doing this, Shepard in his Spiderman prime, leaping off buildings and stuff. At the end of five years, Shepard says "Alright, let's put the movie together," and Thierry said "I'm not giving you the footage." He's actually quite smart and can be a little devious-he figured "I just took away five years of your fame," because in his heart, Thierry always wanted to be the artist. He figured he was messing up his competition, in a way, and holding onto valuable footage. Shepard didn't quite know what to do and filed a lawsuit against Thierry.
Then Banksy figured "I'm in the same situation, he has tons of footage for me." He had some of the only footage of Banksy where you could actually see who he was. So he calls up Thierry and said "I'm sending you a first-class ticket to London, get on the plane, I have to talk to you." That's when he told Thierry that he would make a movie about him instead, in exchange for the footage, which Thierry turned over to Banksy. That's when they realized that the footage wasn't nearly what they thought it might be, but it turns out they did get a different sort of treasure trove, because you've got a portrait of this weird guy, Thierry.
There are a couple other great Thierry Guetta facts (or purported facts) buried in the interview as well. Take these:
Guetta, who was already wealthy before starting his boutique business in LA, bought "a bunch of buildings up and down Melrose and some other really prime real estate in Los Angeles" in order to ease his immigration into the country.
Those properties became part of the reason Guetta was such a central figure in the LA street art scene — he'd let artists work on them, and the artists didn't have to worry about being arrested.
And there's this quote from English: "Later, when they finally went through all his footage, Banksy said that although he was always filming, he never seemed to be filming the right things. Banksy first thought that Thierry had a collection of the greatest street art footage ever filmed, that all these major moments had been captured, but when they looked at the footage they said 'he had the camera pointed the wrong way almost every time.'"
Keep in mind that this info is not verified. It does jibe well with the story Banksy put on film, so it's easier to believe than some of the other minor conspiracy theories about the movie. [via Badass Digest]