Seth Rogen Not In Judd Apatow's 'Knocked Up' Spin-Off; Says 'Jay And Seth Vs The Apocalypse' Shoots February 2012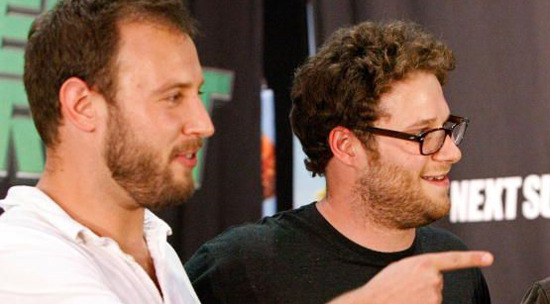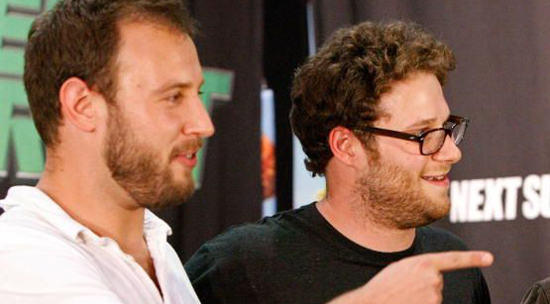 When Judd Apatow announced his upcoming film, once tentatively titled This is Forty, we immediately wondered about the cast. That's not just a result of Apatow's fondness for a stable of comic actors that goes back to the Freaks & Geeks days, but a natural question given that the film is a spin-off from Apatow's previous movie Knocked Up.
The story centers around Paul Rudd and Leslie Mann's characters from Knocked Up, so one obvious question concerned the participation of Seth Rogen. Would he show up? Now the actor says no. As a consolation prize, he announces that he and Evan Goldberg (left, above) will shoot Jay and Seth Vs the Apocalypse, a film they've talked about for a couple years, next February.
Movies.com talked to Rogen, who said of Apatow's movie,
Yeah I'm not in it, but I went to visit the set and it looked hilarious. [...] [Not adding my character] was a good choice, honestly, because I think it would've confused people.
In addition to Mann and Rudd, the film features Albert Brooks, Megan Fox, Ryan Lee, Lena Dunham, Charlene Yi, Annie Mumolo, Robert Smigel, Jason Segel and Wyatt Russell. The film is currently shooting, with a projected release date of June 1, 2012.
And then there is Jay and Seth Vs the Apocalypse, a feature version of a short trailer that Rogen, Evan Goldberg and Jay Baruchel made a couple years back. The plot follows two friends who are cooped up together for too long and begin to get on each others nerves, while the end of the world happens outside. Rogen called the movie an "oddly personal" one when talking to Movies.com, and said "It's now much more than just Jay and Seth — there's many other people vs. the apocalypse now. It's gonna be crazy."
Rogen and Goldberg wrote and will co-direct the film, with production beginning in February 2012. Here's the NSFW short/trailer the crew made in 2007 with Jason Stone directing: