Lars Von Trier Eyeing Stellan Skarsgård And Willem Dafoe For 'The Nymphomaniac'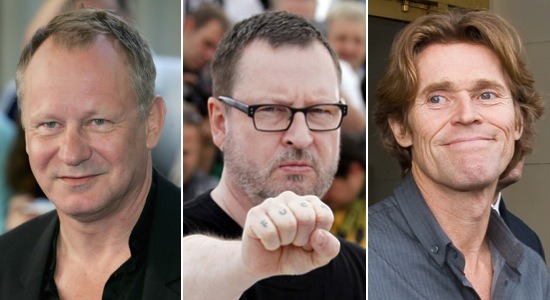 It's probably a safe guess that Lars von Trier will be courting controversy once again with his next project, The Nymphomaniac, and now we know whom he might be courting controversy with. A pair of recent reports suggests that he's eyeing previous collaborators Stellan Skarsgård and Willem Dafoe for the film. Though the film is described as a porno, it sounds like Skarsgård, at least, will be keeping it in his pants. Read more after the jump.
As for Dafoe, The Playlist writes that Dafoe sat down for an interview with C7nema while in Venice promoting 4:44 Last Day on Earth, and mentioned that he had recently received a call from von Trier. However, Dafoe will not be making a decision until he's done doing press for 4:44. Dafoe has worked with von Trier previously on Manderlay and the notoriously explicit Antichrist.
Few plot details have been released about The Nymphomaniac at this point, but what we do know is that it'll be about a woman's sexual awakening — "an explicit exploration of female sexuality from ages 0 to 50." Last month, it was announced that the English-language film would likely be released in two versions: a hardcore cut including scenes of actual penetration, and softer one for showing in mainstream theaters. Producer Peter Aalbæk Jensen also said that, unlike your typical AVN winner, The Nymphomaniac would be mostly dialogue-driven. He's described the project as "a very amusing film, very erotic but very funny also."
Von Trier plans to begin shooting the film in the summer of 2012, which means we can expect to hear more intriguing casting updates over the next several months. I'm having trouble imagining any of Hollywood's A-list actresses agreeing to scenes of actual penetration, so it'll be interesting to see who von Trier comes up with. In the meantime, Dafoe and Skarsgård both seem like great choices. (Even if all the True Blood fans out there are cursing von Trier for picking the wrong Skarsgård to star in a porno.)