'Beetlejuice' Sequel Could Leak From The Pen Of 'Pride And Prejudice And Zombies' Author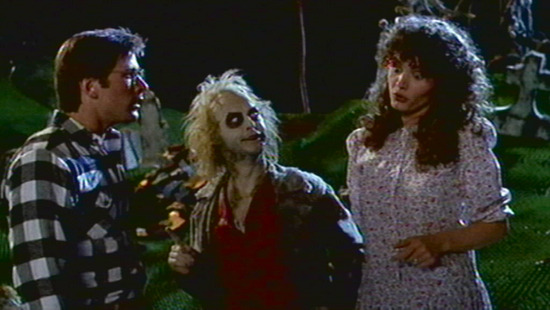 Seth Grahame-Smith, the author of Pride and Prejudice and Zombies and Abraham Lincoln: Vampire Hunter, has just made a deal with Warner Bros. He and his KatzSmith partner David Katzenberg have a two-year first-look deal with WB, and the project they plan to launch out of the gate is reportedly a sequel to the 1988 Tim Burton film Beetlejuice. Say what?Deadline says the intention is not to remake Beetlejuice, but to "reboot it by advancing the storyline of the original." If this seems like a travesty, or at least a puzzling idea, blame Tim Burton's Dark Shadows, for which Grahame-Smith did script work. Warners liked what he turned out for Dark Shadows, which led to this first-look deal. Deadline says Grahame-Smith will write two scripts for WB, with Beetlejuice 2 being a likely option.
The guy who got famous adding zombies to someone else's novel says,
We want to make big movies based on big ideas and inspired by the comedies we grew up loving. The thing we like about Bad Robot and Imagine is that they are never pigeonholed because they do good work across a broad spectrum. We want to slowly grow into a company that follows in those footsteps.
Katzenberg, his partner in this deal which may lead to a sequel to a movie that doesn't need a sequel, told Deadline,
We pride ourselves on coming up with a lot of our own ideas; about 90% of the projects we've generated in film and TV are ones we created and developed. The studio will help us bring our ideas to the finish line.
Perhaps that Dark Shadows script is really wonderful. Perhaps Grahame-Smith really has good ideas for a Beetlejuice sequel. But you'll have to forgive my skepticism.