'The Rocketeer,' From 'Captain America' Director Joe Johnston, Hits Blu-Ray In December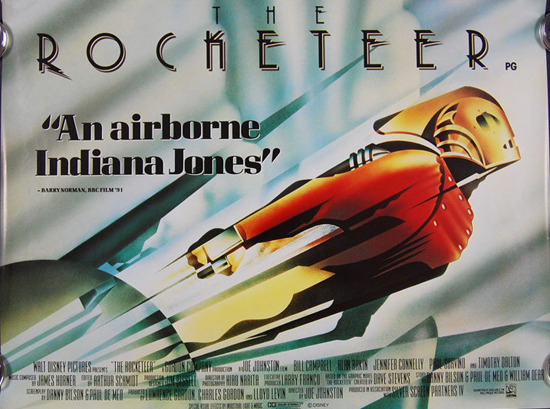 We may receive a commission on purchases made from links.
When Joe Johnston's Captain America: The First Avenger landed this summer and turned into a reasonable hit, one hope held by comic fans was that Johnston's 1991 adaptation of Dave Stevens' '30s-set comic The Rocketeer would finally be given a Blu-ray release.
The Disney film was a flop in the summer of '91 but has earned a cult following thanks to Johnston's lively use of '30s action/adventure serial style and the simple appeal of a mechanic who becomes a sort of hero when a jetpack falls into his possession.
Disney talked about a sequel before the film flopped, and Johnston says he still wants to make another film featuring the characters. A sequel isn't likely to happen if no one knows about the original film, however. The lackluster DVD release Disney once gave The Rocketeer hasn't done anything to earn the film new fans. But in December the movie will hit Blu-ray, giving people a chance to get a good look at the movie that was among the first wave of modern comic book adaptations.
Amazon is taking pre-orders for the disc now; no specs are available at this point.
Below is the Amazon blurb about the film. Saying that The Rocketeer has 'a certain loopy charm' is actually just about the right note of praise. I'm not over the moon for the film, but I admire the way it wears its heart on its sleeve, and I have a definite fondness for the look of the costumes and sets. The cast (Bill Campbell, Jennifer Connelly, Alan Arkin, Timothy Dalton, Paul Sorvino, and, more than ten years before becoming famous as Locke on Lost, Terry O'Quinn as Howard Hughes) is well-chosen, too. See them in action via the theatrical trailer, after the plot summary blurb.
Based on a retro-styled comic book hit of the '80s, this Disney film was meant to launch a whole line of Rocketeer films–but the series began and ended with this one. That's too bad, because this underrated Joe Johnston film has a certain loopy charm. The story centers on a pre-World War II stunt pilot (Bill Campbell) who accidentally comes into possession of a rocket-propelled backpack much coveted by the Nazis. With the aid of his mechanic pal (Alan Arkin), he gets it up and running, then uses it to foil a plot by a gang of vicious Nazi spies (is there any other kind?) led by Timothy Dalton. Jennifer Connelly is on hand as the love interest, but the real fun here is when the Rocketeer takes off. There's also a nifty battle atop an airborne blimp.