AMC Greenlights 'Secret Stash,' Kevin Smith's Comic Shop Reality Series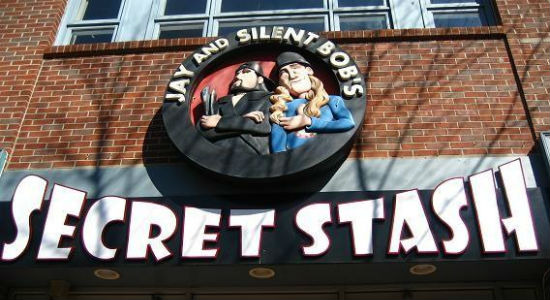 Mark the date: September 1, 2011. A banner day for Kevin Smith. Not only does his controversial film Red State hit all sorts of video on demand outlets today but AMC has just officially greenlit Secret Stash (working title), a reality show set in his Jay and Silent Bob's Secret Stash comic book store in Red Bank, NJ. Smith is executive producing the show which should start airing in the first quarter of 2012. Read what Smith had to say about it and more after the jump.
The Hollywood Reporter, Deadline and more simultaneously reported on AMC's news, which also included an extended premiere of The Walking Dead and another new show called JJK Security which revolves around a private security company in Georgia.
Smith released the following quote about his excitement teaming up with AMC:
Draper.  Meth.  Zombies.  This show couldn't be on a better network. AMC is to television what Miramax was to cinema back when I first got in the game: they're the premier destination for any story-teller looking to spin an offbeat yarn that no other outlet has the stones to touch. And as if I didn't love them enough, now they're putting my friends on TV!  I'm ecstatic, proud, and extremely lucky to be in bed with a network I watch religiously anyway.  And if they'd pushed just a little harder in the negotiations, I'd have done this show for no payment beyond early access to every episode of MAD MEN, BREAKING BAD, and WALKING DEAD.
The show will originally air as six, hour long episodes. Anything beyond that is surely dependent on ratings.
What will the show be about? Nerd culture. The atmosphere of excitement, passion and more of buying collectibles, comic books and the kinds of bonds that community creates. Here's the description from the official press release:
The Secret Stash is a one hour series that captures the world of the local comic book store. Way before comic book culture went mainstream, the comic store has not only been a place for people to buy, sell, or trade for cool stuff; but also to hang out and be part of a community that just loves comics. Secret Stash will capture both of these aspects of comic store life. It will document the daily banter of The Secret Stash and it's employees and devoted customers; and it will capture the fun and emotion of buying and selling collectibles and comic memorabilia that happens in comic book stores all across the country and in mega-venues like Comic-Con.
And Here's AMC Senior VP Joel Stillerman:
The comic book store is, in many ways, the corner bar for comic book fans. It is still this place where everybody knows your name, and you can go and geek out with like minded people. If I lived closer, I'd want to hang out at here.
Are you going to watch this show? Did you go out for the casting call a few months ago?