'Margaret' Trailer: Kenneth Lonergan Returns, But With A Whimper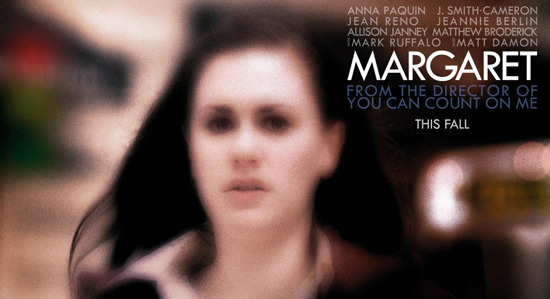 It's been a very long road for You Can Count on Me director Kenneth Lonergan's movie Margaret, which stars Anna Paquin as a girl who becomes the center of a web of people impacted by a fatal traffic crash. The film was announced in 2003, shot in 2005 and has been in legal and editing room hell ever since.
Scott Rudin, the late Sydney Pollack (who also appears in the film), Martin Scorsese and his editor, Thelma Schoonmaker, have all had a hand in trying to shape and edit the film over the years, as Lonergan struggled to cut the film into what he deemed acceptable form. That endless tinkering led to lawsuits and plenty of speculation about whether the film, which also stars Matt Damon, Mark Ruffalo, Matthew Broderick, and Jean Reno, would ever see the light of day.
Now it is being released, finally, in a fashion that is more akin to limping into a few theaters than triumphantly striding down the red carpet. Along with that long-delayed release plan is a trailer, which you can see below.
So, after all this time, how does the film look? The trailer starts off with a flirty, engaging note, but then quickly spirals down into something that looks like a super-awkward meditation on grief and responsibility. In short, it doesn't look good at all. That's a difficult thing to reconcile if you've ever read the 2003 version of the script, or even the effusive praise directed at that draft. (A draft which has been argued to be an allegorical response to 9/11, making the fall release of this film near the tenth anniversary of that tragedy rather appropriate.)
Still, no wonder Lonergan spent years trying to salvage the footage. Perhaps — hopefully — the film is a lot better than this trailer makes it look. I hope Margaret is valuable as more than a 2005 time capsule, but I'm not pinning much on that hope.
MARGARET centers on a 17-year-old New York City high-school student who feels certain that she inadvertently played a role in a traffic accident that has claimed a woman's life. In her attempts to set things right she meets with opposition at every step. Torn apart with frustration, she begins emotionally brutalizing her family, her friends, her teachers, and most of all, herself. She has been confronted quite unexpectedly with a basic truth: that her youthful ideals are on a collision course against the realities and compromises of the adult world.
Apple has the HD version. Fox Searchlight will release Margaret on September 30.