Superhero Bits: Thor 2, Man Of Steel, Dark Knight Rises, War Machine, Amazing Spider-Man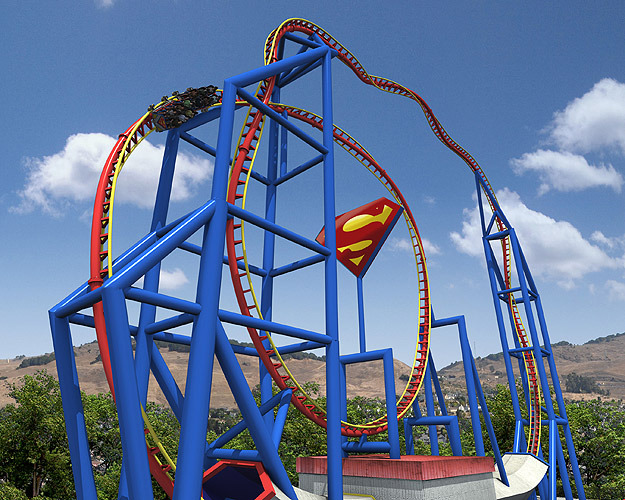 Want to read a letter George R.R. Martin wrote to Marvel several decades ago? How about a few brand new quotes from Joss Whedon and Marc Webb about The Avengers and The Amazing Spider-Man? What was Morgan Freeman sporting on the set of The Dark Knight Rises that could be considered a possible spoiler? Which two Six Flags theme parks are getting new Superman rides in 2012? Did Tom Hiddleston have any juicy gossip to drop when it comes to Thor 2? Find out the answers to all of these and more in today's Superhero Bits.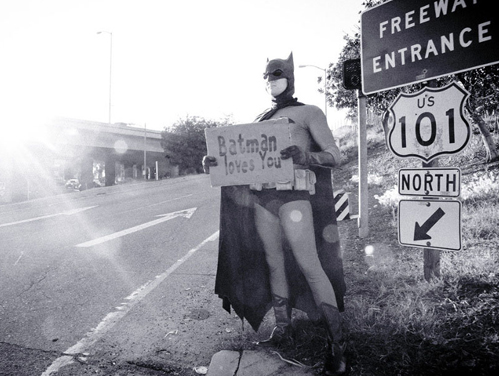 I honestly don't know what to make of this photo but I kind of love it because Batman loves me. Thanks to the Movie Club.
There are cosplayers, then there's Anthony Le. Dude is legit. Check out his upgraded War Machine suit thanks to Reddit (via The Daily What).
Joss Whedon spoke to Total Film about his choices directing The Avengers:
You have to respect the realities of the other movies. But visually this is very much my own thing. My style is very comic-book-like anyway, so I'm trying to do things the way I always do....Part of Iron Man's thing was, 'Wow, this feels just like us!' Asgard, less so, and Captain America was a nostalgia piece, so basically it would have been like hiring all the composers of all the other movies to work together on the score.
Like Galactus? Like Noodles? Then this shirt from Shirtoid might be just your thing.
Heath Ledger as the Joker. Hugh Jackman as Wolverine. Both were great comic book movie casting decisions but neither is the best of all time according to WhatCulture. Check out their their Top 10 Best Comic Book Castings in History.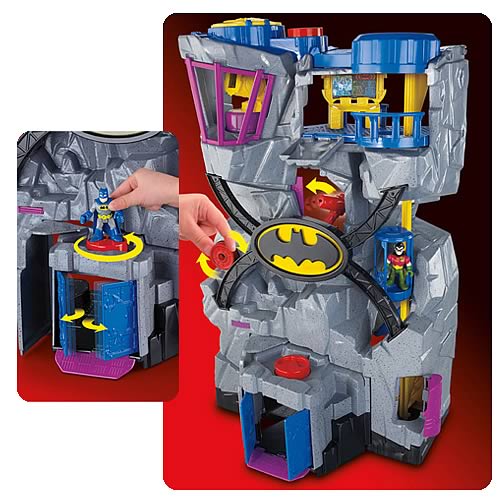 This is the new Batman Imaginext Batcave Playset that'll be available later this month. I'm not 8 so I'm a little out of the age range but, it's pretty sweet. Thanks to Geekalerts.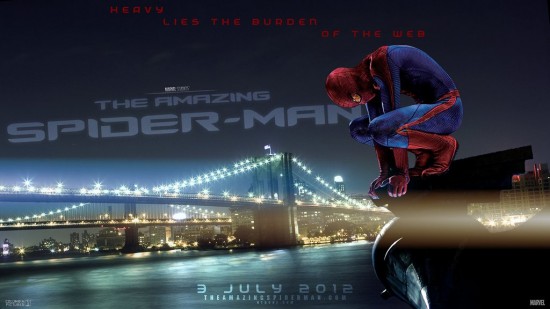 We've seen so much fan art from The Dark Knight Rises and Man of Steel but where's the love for The Amazing Spider-Man? Comic Book Movie points us to the Superhero Hype message boards where several pieces of art have been put up. I dig this one by "ntbone" and there's a Drew Struzan-inspired one too which I dig less.
Tom Hiddleston spoke to MTV about Thor 2 and more or less confirmed that he'll be in it and also suggested that director Bryan Kirk might not have the job yet. Head over there to read all of his thoughts but here's an excerpt of what he thinks will be in store for his character due to The Avengers:
In 'The Avengers' he's really dark and kind of sociopathic, or maybe even psychopathic is the word, in a deluded way. Obviously I haven't let go of the spiritual damage at the heart of him, it still comes from that lost place, but he's just incredibly nasty. I think that probably in 'Thor 2' his previous actions will, he'll have to take responsibility for what he's done. The great thing about Loki is there is potential in him for greatness and awfulness, for great heroism and great villainy. There are still, even within 'The Avengers,' there are moments where you see within Loki a glimmer of hope and that possibility of redemption.
Due to the amount of graphics and images included in Superhero Bits, we have to split this post over THREE pages. Click the link above to continue to the second page of Superhero Bits.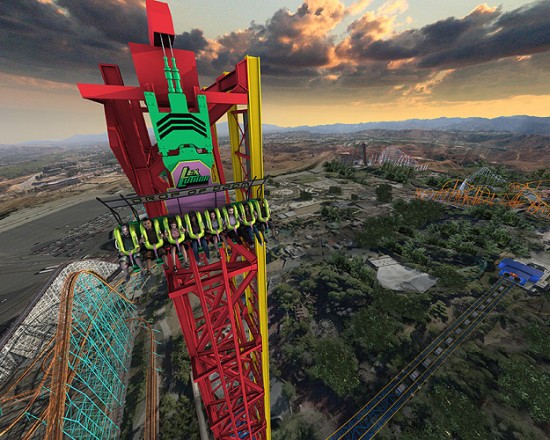 Six Flags announced their new rides for 2012 which include two Superman rides. At Six Flags Discovery Kingdom outside San Franscisco, they're opening Superman Ultimate Flight (which you can see on the previous page) "a new launch coaster, blasts riders at over 60 miles-per-hour through two vertical twists and a high-flying 150-foot-high inversion, ranking it among the tallest inversions in the world." And at Six Flags Magic Mountain outside Los Angeles they'll open Lex Luthor Drop of Doom (above) which will be "world's tallest vertical drop ride....At a sky-scraping 400 feet, this engineering phenomenon drops riders at speeds of up to 85 miles-per-hour." Thanks to Superhero Hype.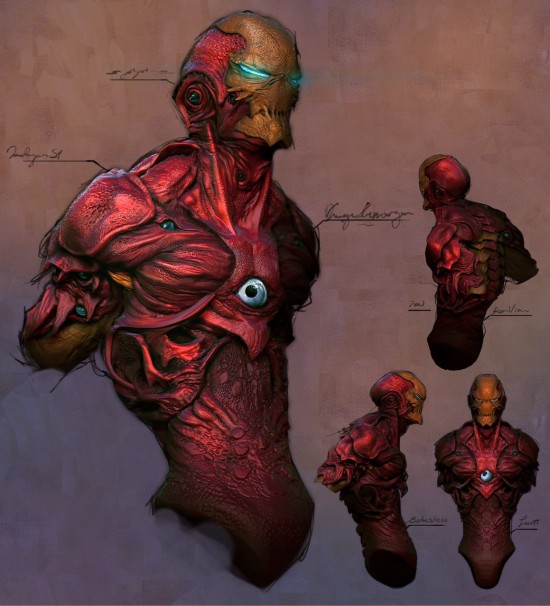 Geek Tyrant points us to this work by Retrovenus Miravis at the CGHub of a monstrous Iron Man. Pretty cool, I'd read this comic.Marc Webb spoke to Total Film about The Amazing Spider-Man. He touched upon his reservations taking the project, the amazing source material they drew from and also some of the 3D stunts:
I wanted to shoot certain things very specifically for 3D. There's an experiential component to 3D that's really fantastic and we're experimenting with generating that point of view so you feel how Spider-Man feels when he's jumping over these buildings. We made a conscious effort to do those effects practically and we had an incredible stunt team. We built this whole rig – hundreds of feet long – in Harlem, and we actually swung a man through traffic down the street. I thought that was really exciting, not to mention an incredible level of acrobatics!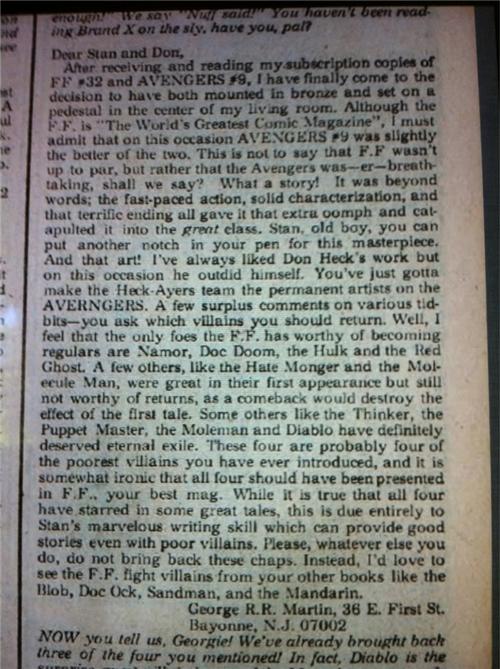 In 1964, George R.R. Martin, the author of Song of Fire and Ice Series (commonly known as Game of Thrones now) wrote a letter to Stan Lee and Marvel about The Avengers and Fantastic Four. The letter first appeared on Twitter via The Daily What.
Here's a recent entry into a funny daily comic series called Hijinks Ensue by Joel Watson.
We've all seen girls with some version of an "I Love Geeks" t-shirt and, apparently, those girls have their own handbook too. Geekalerts alert us to a book called A Girl's Guide To Dating A Geek by Omi M. Inouye.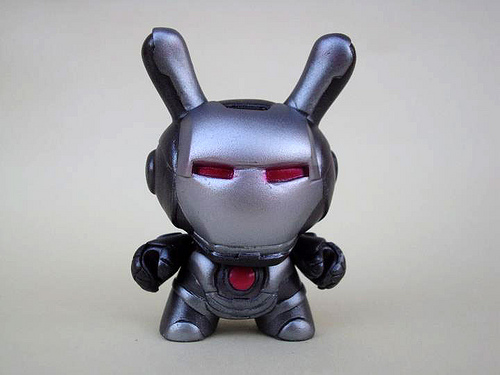 More War Machine today. A custom Dunny by Mone Art Design & Custom thanks to Toysrevil.
THE NEXT PAGE HAS POTENTIAL SPOILERS FOR THE DARK KNIGHT RISES AND MAN OF STEEL.
Due to the amount of graphics and images included in Superhero Bits, we have to split this post over THREE pages. Click the link above to continue to the third page of Superhero Bits.
[No photo]
Looks like there might be another big explosion for the Gotham Police Department in The Dark Knight Rises. A description over on Superhero Hype (via CBM) describes a massive stunt being shot in Los Angeles with explosions, fire, ice and more. Above are some images (via Twitter) of the probable targets.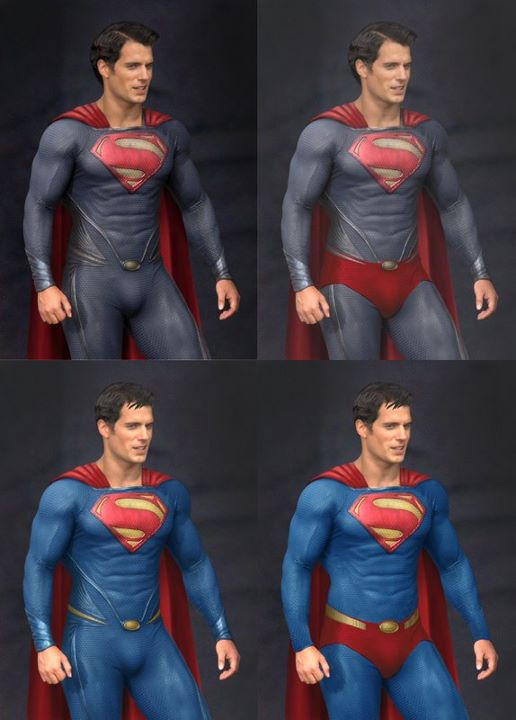 This Facebook page complied a bunch of different manipulations fans on Superhero Hype made to the Man of Steel Superman suit. The top left is the original, the rest are fakes.
[No photo]
There's Morgan Freeman leaving the set of The Dark Knight Rises. Seems harmless but look closer, is he going all Michael Jackson with his hand or is that a prosthetic? What has happened to Lucius Fox? Thanks to Phil Ranger of SHH (via CBM) for the image.
[No photo]
Here's an image of a Faora stuntwoman on the set of Man of Steel. Pay close attention to her legs. What's going on there? Thanks to the MOS Facebook via CBM.