'A Dangerous Method' Domestic Trailer: Less Kinky, Still Beautiful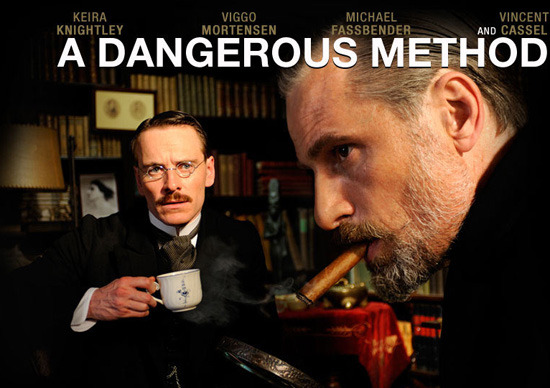 Oh, I can't wait for this. Here's the second trailer we've seen for David Cronenberg's A Dangerous Method, which tells the story of Dr. Carl Jung (Michael Fassbender) and Sigmund Freud (Viggo Mortensen), who both fall into a web tethered by Jung's patient Sabina Spielrein (Keira Knightley).
The previous trailer was just a bit more explicit — as you'd expect from the intersection of Cronenberg and early psychoanalysis, there is some kink ahead. So this trailer is much the same as the international one that arrived in June, only with a handful of shots swapped out for tamer stuff. But there's a proper HD version now, and it is lovely.
This embed is via Rope of Silicon; I'll add a better YouTube one shortly.
Watching both trailers I thought immediately of Dead Ringers, and evidently there might be real merit to that. Jeff Wells recently ran a couple quotes from a third party who saw the film and called it "great, brilliant, precise and lucid," and that "among all Cronenberg's films the one it's closest to is Dead Ringers." That excites me like Sabine Spielrein is excited by her father delivering a beating.
Seduced by the challenge of an impossible case, the driven Dr. Carl Jung (Michael Fassbender) takes the unbalanced yet beautiful Sabina Spielrein (Keira Knightley) as his patient in A DANGEROUS METHOD. Jung's weapon is the method of his master, the renowned Sigmund Freud (Viggo Mortensen). Both men fall under Sabina's spell.
Apple has the HD version, which is quite recommended. A Dangerous Method opens on November 23rd, 2011, but we'll have more reports on the film from the festival circuit well before that.