Superhero Bits: The Avengers, Captain America, Thor, Man Of Steel, Smallville, X-Men First Class, Tom Hardy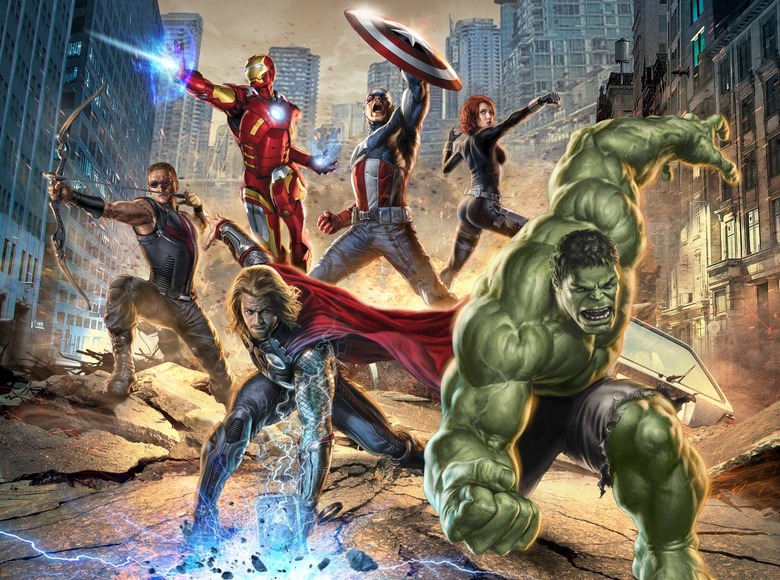 Want to hear Tom Hardy talk about criticisms of The Dark Knight Rises? What would other actors look like if they would have been cast as the Man of Steel? Were you a fan of the end credits in Captain America: The First Avenger and want to learn more about them? Who are the people fighting The Avengers on the streets of Cleveland? Read about all of this and more in today's Superhero Bits.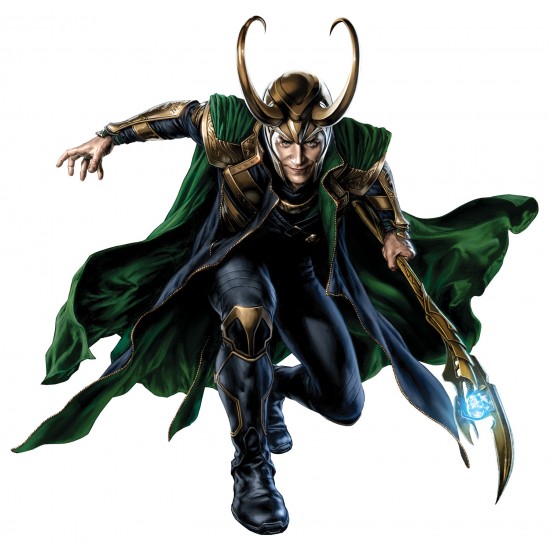 Spidermedia (via CBM) has posted this promo image of Loki in The Avengers. Impressive. See the counterpart on the next page.
Tom Hardy spoke to CineMovies.tv about how he's reacting to criticisms of Bane in The Dark Knight Rises. He begs fans to "trust" Nolan, said he cries about it and discusses his weight gain for the role, which is 20 more pounds than he was for Warrior. Head there to read what he said and also hear the audio.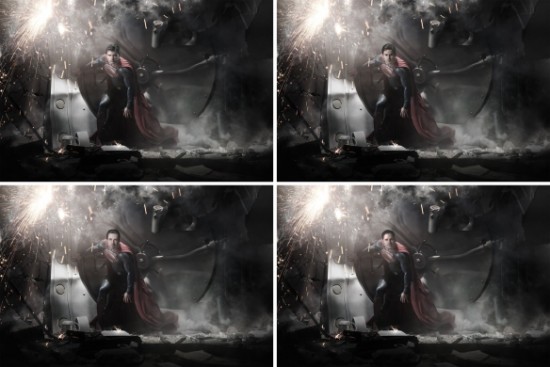 Everyone has seen the new Superman suit images but what they haven't seen are what the other actors who were up for Man of Steel would have looked like in the new duds. /Film reader Torrey A sent us to his blog where he posted this photoshops of Jon Hamm, Matt Bomer, Tom Welling and more in the suit. Head over to his site to see the hi-res version.
"We often suffer, but we are never crushed. Even when we don't know what to do, we never give up." Who said that? Well it's a verse from the Bible but, according to the Christian Post (via io9), 63% of Americans think it was Martin Luther King Jr., George W. Bush Jr. or Captain America.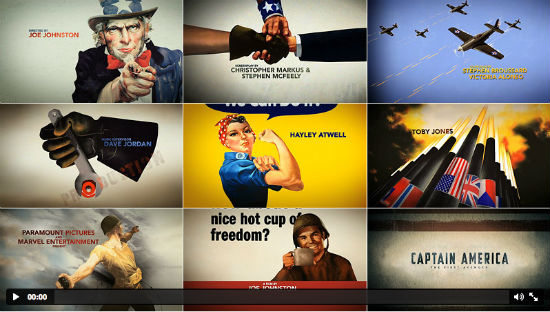 The Art of the Title does some of the coolest videos online, getting in depth into the credit designs of huge movies and their latest one is about the amazing closing credits of Captain America: The First Avenger. No embed, so just click on the above image.
Visual Effects legend John Dykstra spoke to Screenrant about his impressive resume of work including the recent X-Men First Class and how he and Matthew Vaughn worked with the comic book source material:
We were more biased towards the director's point of view, but we certainly referenced scrap from all the comic books. I have to admit I wasn't an avid comic book reader, but between Matthew Vaughn and all of the people who worked with us, they all brought to the table images and ideas and story components that were part of the original X-Men comic books. I know Matthew was trying to be very true to the comic books. It was the same thing with Sam Raimi on the Spider-Man movies. He would constantly ask, "Is this going to work for the kids who read the comic books?" That's critical with the source material. Bringing that to the big screen at least requires that you keep a component of that chord or you lose what the comic was about.
Put the word "Rises" in your title and it's bound for porn parody. So, months before its release – pun intended – here's a porn parody for The Dark Knight Rises.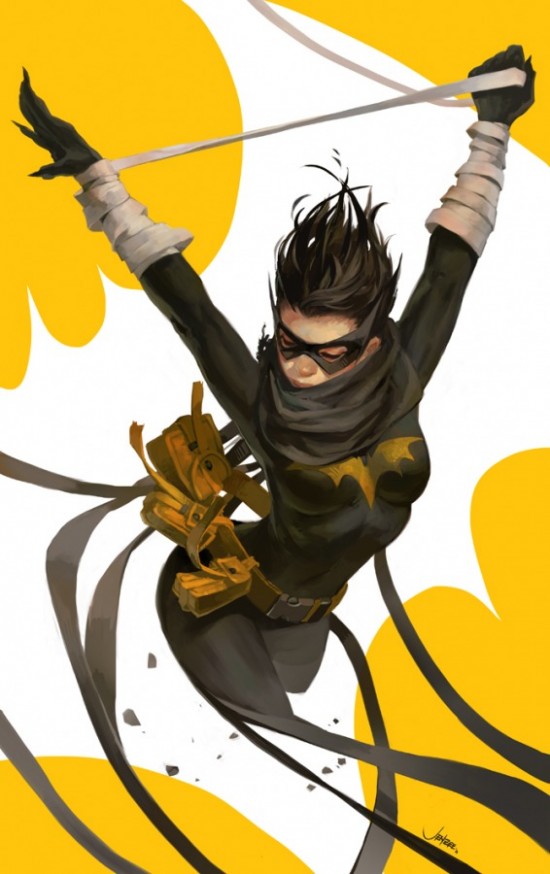 An artist named Jenzee has created this beautiful rendition of Batgirl called The Black Bat. Thanks to CGHUB via Geek Tyrant.
Due to the amount of graphics and images included in Superhero Bits, we have to split this post over THREE pages. Click the link above to continue to the second page of Superhero Bits.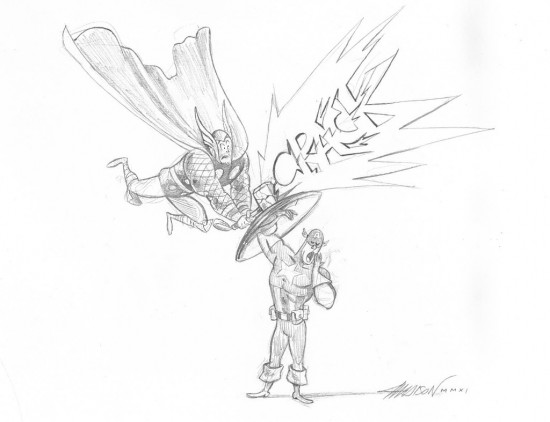 Two friends bet that Thor would be better than Captain America: The First Avenger and Thor lost. So Austin Madison drew two images. The first is above, see what happens next over at Super Punch.
Alex Gonzalez, who played Riptide in X-Men: First Class, spoke to Latino Review about X-Men: First Class and gave a unique reason why he really wants to come back for a sequel, which he is signed for. Here's a snippet of the interview:
Another reason why I want to do a sequel is because in the first one my English was really bad and it was a little bit difficult for me to interact with the rest of the crew. I feel that it would be more enjoyable because now I can communicate better.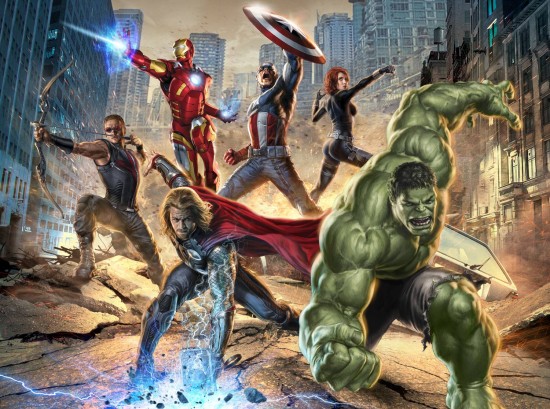 Comic Book Movie uncovered another piece of promo art for The Avengers featuring...The Avengers!
Bleeding Cool posted this video of real life superhero named Ninja kicking a little ass.
[No photo]
Scriptflags has posted a bunch of behind the scene stills from Matthew Vaughn's X-Men First Class.
Smallville is a show that will be fondly remembered by fans but, as Topless Robot points out, there were some really dumb things that happened. Head there to read their list of 10 Incredibly Stupid Things Smallville Gave Us Instead of Superman. An example? Fat Amy Adams long before she was Lois Lane.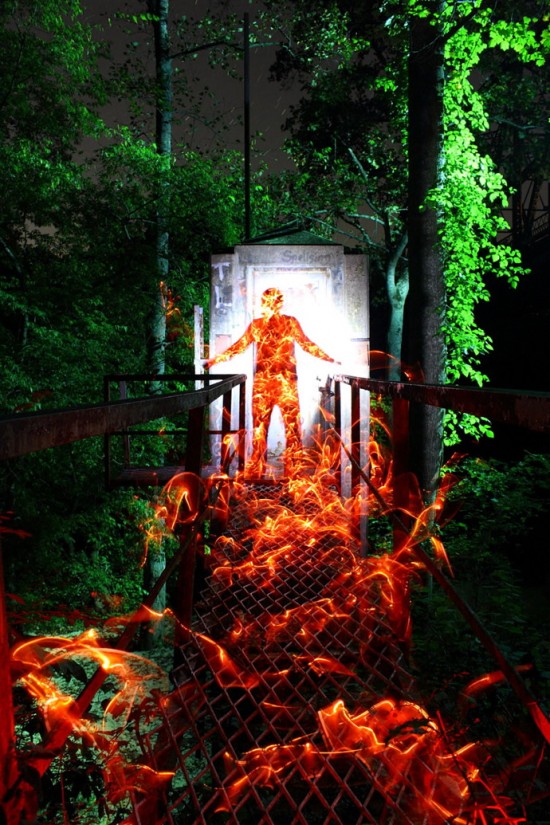 You might have seen some of these online before but, if you haven't, you've gotta check them out. Paulo Gabriel's blog has posted a slew of AMAZING light paintings by Dennis Calvert. They aren't superhero related per say but tell me that doesn't look like the Human Torch? And there's more at those links.
This week is the big DC Comics relaunch and /Film reader Patrick W alerted us to this video he did that acts as a trailer for the event.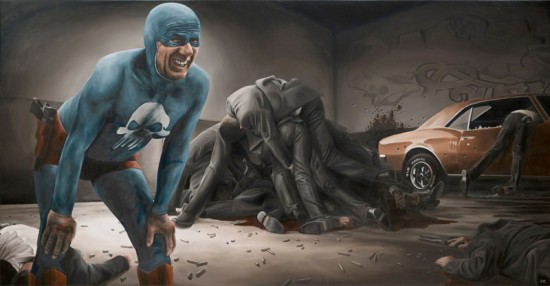 More artistic superhero stuff. Artist Andreas Englund has created a series of paintings that surmise what superheroes would look like as they age. This is just one image above but there are more at Empty Kingdom (via Geeks Are Sexy.)
THE NEXT PAGE CONTAINS SPOILERS FOR THE AVENGERS AND MAN OF STEEL.
Due to the amount of graphics and images included in Superhero Bits, we have to split this post over THREE pages. Click the link above to continue to the third page of Superhero Bits.
Comic Book Movie has posted a few special effects takes of a fight that will eventually feature Iron Man in The Avengers. They shoot it without the actors, just the effects, so you can put in the CG character later. There's another video at that link.
IGN Movies has run an article which says a source of theirs confirms the Skrulls are NOT in The Avengers. So who are the enemies that we've seen everyone fighting? Here's a snippet from the article:
Smart money is on Loki's allies being the Chitauri, the Ultimate Universe's version of the Skrulls (or one version, anyway). This isn't a new theory. Less cheesy than the scaly-faced green guys from mainstream Marvel, the Chitauri are nonetheless an advanced inter-dimensional race of shape-shifters who also happen to be pretty scary. They even first showed up fighting Cap during World War II as the secret power foundation behind the Nazis! And they are known by many names across the galaxy, including "Skrull."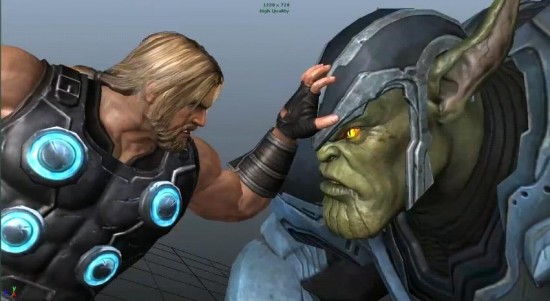 That said, a video made the rounds recently (and has since been taken down) of footage from an abandoned Avengers video game which featured The Skrulls. Screenrant grabbed some images from the video before it got taken down, like the one above. Head there for more.
[No photo]
You've certainly seen the close up images of the Man of Steel suit, which were so revealing they got their own post. But Comic Book Movie has a ton more from different angles, including some with the cape.
The Avengers just finished shooting in Cleveland and Comic Book Movie has posted this video of a bunch of what was shot on the final day.