'Wilde Salome' Trailer - Al Pacino Grapples With Oscar Wilde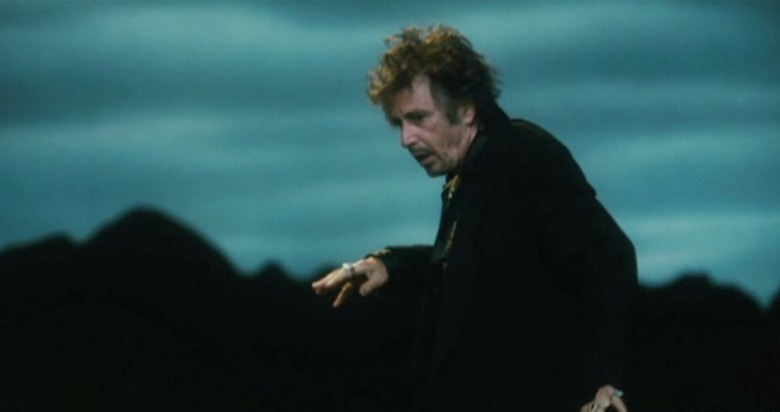 Al Pacino's known for many memorable roles — most notably, Tony Montana in Scarface and Michael Corleone in The Godfather — but it turns out one of the parts nearest and dearest to his heart is one that few film buffs have seen. Pacino has a little-known obsession with Oscar Wilde's play Salome, and has played the part of King Herod in multiple stage productions. When he reprised the role in 2006, he brought along a film crew to collect footage for a documentary he was directing about his attempt to understand one of his favorite works and the iconic writer behind it.
Five years later, Pacino's film is ready to make its debut at the Venice Film Festival. Wilde Salome follows Pacino all over the world as he explores his passion for Wilde and his work, much as 1996's Looking for Richard saw him examine William Shakespeare's Richard III. Watch the trailer after the jump.
[via First Showing]
Worth noting: You wouldn't know it from the trailer, but the 2006 play also featured a then-unknown Jessica Chastain in the title role of Salome. This is back when she was still guest-starring in things like Law & Order: Trial by Jury.
Wilde Salome looks fascinating to me, in the way that passion projects usually are. The trailer makes it seem genuinely engaging, funny, and thoughtful, but even if it's a big fat mess, it'll be an intensely personal mess that tries to say something about its creator. While I won't be at Venice to catch its premiere, I'll be looking forward to checking it out whenever it makes its way back across the Atlantic to hit U.S. theaters.
Synopsis:
Wilde Salome invites audiences into the world of Al Pacino as never before, offering a deeply intimate portrayal of the cinema's greatest icon, playing his most demanding role: himself and King Herod. Brimming with shockingly candid moments, Wilde Salome ventures with Pacino all over the world, to London, Paris, Dublin, New York, Los Angeles and to his dressing room backstage; nothing is off limits as Al Pacino explores the complexities of the play, the trials and tribulations of Wilde's life, and in the process offers an unprecedented look at his own. At once touching and deeply funny, Pacino's journey in Wilde Salome is one of passion, determination and above all, obsession. Tom Stoppard, Gore Vidal, Bono, Tony Khusner, and Oscar Wilde's grandson Merlin Holland also appear in the film.