New James Bond Movie Title And Plot Revealed? (Probably Not)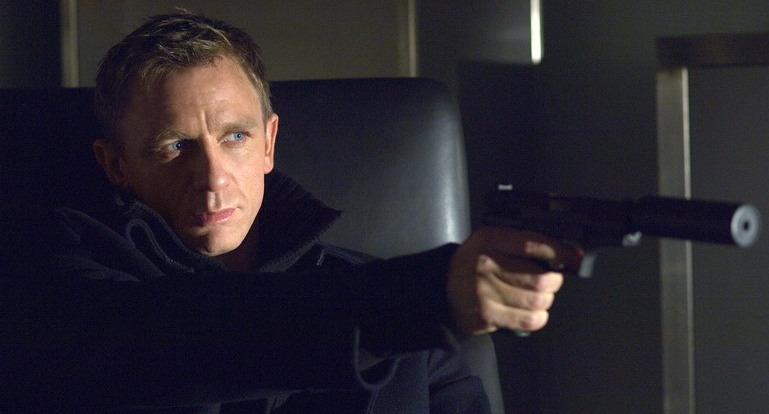 Here's a bit of wild speculation about Bond 23 — or possibly not so wild, depending upon how much faith you place in various online translations and reports. Hint: in this case, be cautious. But let's lay out the steps that have lead some to suspect that the twenty-third James Bond film may be based in part on the most recent Bond novel, and share with it the rather awkward title Carte Blanche. (Which is, I have to say, not anywhere near as awkward as Quantum of Solace. And, not being as awkward, it probably won't inspire a very funny song by Attack the Block director Joe Cornish.) Read on for the steps that lead to the speculative conclusion...
Bleeding Cool kicks things off by being Google alerted to a story about Serbian cellist Jelena Mihailovic in Blic Online, which says that she was hand-picked to "write the opening score for the new James Bond film, entitled Carte Blanche."
So, a couple of things ping as strange there. Has this cellist really been told the title of the film, and given the mandate to compose the opening tune well before the film has even begun production? Possible, I suppose, but quite unlikely. Or is there some confusion with the latest James Bond novel, by Jeffery Deaver, also called Carte Blanche?
That's also possible, but that's where Bleeding Cool finds a possible link to the new film. Over the past couple weeks, there have been rumors that Bond 23 has a big action setpiece set on a train. And this is the plot of Carte Blanche:
[Bond] starts his assignment on the outskirts of Novi Sad in Serbia where an Irish sapper-turned-enforcer named Niall Dunne is planning to derail a train carrying three hundred kilograms of methyl isocyanate, dumping it into the Danube. Bond is able to prevent the catastrophe by derailing the train himself at a much safer place along the line. He is unable to detain Dunne, who kills Bond's Serbian contacts in the course of his escape.
So: is this a collusion of rumors and circumstantial evidence? That's how it looks. Going back over the history of the Bond films, you'll find that the only author whose Bond novels have been adapted to film is Ian Fleming. And as BAD points out, you've got to go back decades to find EON Productions, the company behind the Bond films, tapping into a then-new Bond novel for film source material.
I'd stick with the idea that Bond 23 remains untitled for now. The film will be Daniel Craig's third outing as Bond, this time under the direction of Sam Mendes. Judi Dench will return as M, Naomie Harris will reportedly play Miss Moneypenny, and Javier Bardem and Ralph Fiennes should have roles as well. John Logan, Neal Purvis & Robert Wade, wrote the script, and Closer writer Patrick Marber reportedly did some rewrite work at the behest of Mendes.