Casting Bits: Sienna Guillory Confirmed For 'Resident Evil: Retribution;' Olivia Wilde In 'Better Living Through Chemistry;' James Hong In 'RIPD'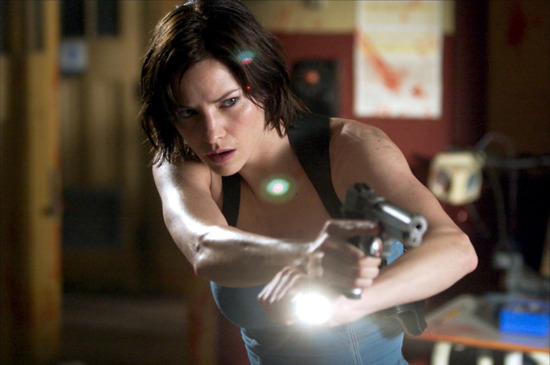 This is kind of a catch-all casting break, as it goes all over the map. I'd love to tie the four stories that follow to a theme beyond 'these people are all in new movies,' but if that theme exists, I'm afraid it escapes me now. So, after the break you'll find:
Sienna Guillory appears to be confirmed to return as Jill Valentine in the fifth Resident Evil film,
comedian Gabriel Iglesias will spin records (or CDs, more likely) in Soderbergh's Magic Mike,
Olivia Wilde takes what formerly belonged to Jennifer Garner,
and James Hong will play Ryan Reynolds, sort of, in R.I.P.D.
There have been rumors that Sienna Guillory might or might not return to play Jill Valentine for Resident Evil: Retribution, aka the fifth film in the series. But she recently announced via Twitter that she was meeting Paul W.S. Anderson and producers Jeremy Bolt and Robert Kultzer to talk about the future of her RE career. This afternoon she followed up with "THANK YOU SO MUCH! RETRIBUTION HERE I COME!" So it looks like she's back, to play Jill Valentine a third time, and fans who were worried about her being replaced can simmer down. [STYD]
With Steven Soderbergh about to shoot his male stripper movie Magic Mike, the last casting on the film is falling into place. Gabriel Iglesias has been brought on to play the DJ at the film's club Xquisite, which is run by Matthew McConaughey and features Channing Tatum and his protege Alex Pettyfer as dancers. Also in the cast are Matt Bomer, Joe Manganiello, Riley Keough and Cody Horn. The film was written by Reid Carolin based on Tatum's own youthful experience as a dancer; it has been described as having a Saturday Night Fever sort of vibe. [The Playlist]
Better Living Through Chemistry has swapped lead actresses: Jennifer Garner is out and Olivia Wilde is in talks to play the "trophy wife customer who takes [straight-laced pharmacist Sam Rockwell] on a joyride involving sex, drugs and possibly murder." Michelle Monaghan plays Rockwell's wife. [Variety]
The latest actor to join Robert Schwentke's R.I.P.D., which is shooting in Boston now, is James Hong. Famous for his appearances in Blade Runner ("I only do eyes!") and Big Trouble in Little China, Hong hasn't gone anywhere. He'll be Grandpa Chen in R.I.P.D., who happens to be the avatar of Ryan Reynolds' character. THR explains that the avatar is "the form humans see when Reynolds' character goes about his business." (Last week we reported that Marisa Miller would be the avatar for Jeff Bridges' character.) Reynolds is a murdered cop who joins the supernatural Rest in Peace Department as a ghost, and is partnered with Bridges as he seeks his own killer.