Watch The New Trailer For The 'Jurassic Park' UK Re-Release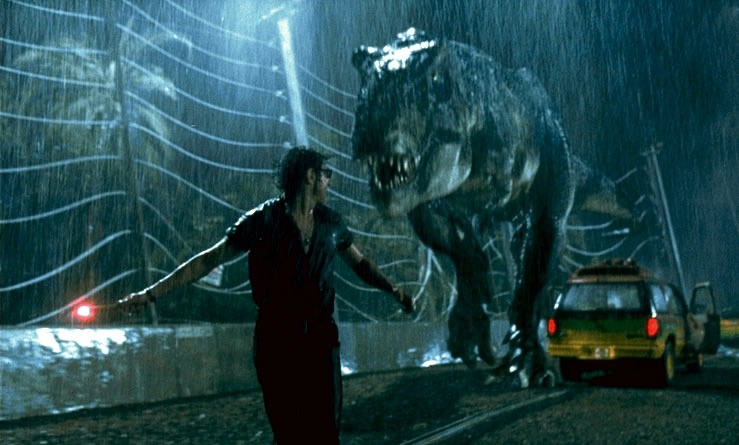 While American audiences were forced to watch Jurassic Park over and over again on AMC for the past week straight, Steven Spielberg's 1993 smash hit is coming back to the big screen across the Atlantic. Empire is reporting the film will be re-released in the United Kingdom on September 23 to help drum up interest in the October Blu-ray box set. Read more, and watch a brand new trailer, after the jump.
Thanks to Empire for the info and trailer.
As stated in the trailer, the film has been digitally restored so it's sure to look really great. Not that it didn't already look great. The early CG effects still look as good – if not better – than what companies are pumping out these days. Also, until we hear otherwise, there doesn't seem to be any plans for a similar U.S. release but we'll keep you posted.
I'll never forget first seeing Jurassic Park on the big screen on that fateful June evening in 1993. It was one of the first films I ever needed to see on opening night and I arrived early at the theater to do so. Watching and experiencing it with a sold out crowd, bubbling with anticipation was truly special. I saw it again on the big screen a few years back when it played at the Sunshine Cinemas in New York and the crowd's passion was equally electric. People really love Jurassic Park.
But where does it stand with the rest of Spielberg's work? After rewatching the film on one of those non-stop AMC screenings last week, I tweeted that it could be in the discussion for Steven Spielberg's best. I later relegated it a few notches down, below Raiders of the Lost Ark, Jaws and Close Encounters of the Third Kind. Where do you think it fits? And if it doesn't rank as one of Spielberg's bests, where do you think John Williams' score ranks among his other Spielberg works? For me, it's probably third behind Raiders and Jaws.