George Clooney Will No Longer Be Steven Soderbergh's 'The Man From U.N.C.L.E.'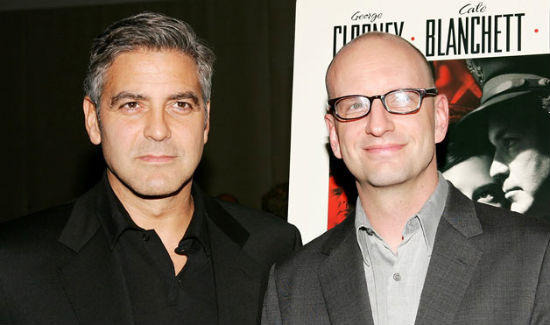 Steven Soderbergh and George Clooney have made six films together paired as director and actor (three Ocean's movies, Out of Sight, Solaris and The Good German), and many more as producing partners. Until today it looked like the seventh directing/starring partnership between the two would be The Man From U.N.C.L.E, with Clooney playing the role that Robert Vaughn made famous on television in the mid-'60s. But now Clooney is "in the process of withdrawing" from the film, leaving Soderbergh with a big spy story remake that has a leading-man sized hole in the middle.
Deadline says the reasons for Clooney's exit aren't clear. It could be any number of things, so I won't speculate here. If anything, I'd guess that scheduling is the issue, rather than some deep personal break between the two filmmakers.
At one point, David Dobkin (Wedding Crashers, The Change-Up) was going to direct a comedic take on the spy TV show featuring an American and Russian spy who work together for the agency called the United Network Command for Law and Enforcement.
But when Soderbergh came on with his The Informant! and Contagion writer Scott Z. Burns, the line was that their take would "not modernize the film and keep it set in the director's beloved 1960s" and "take U.N.C.L.E. back to its roots."
Scott Z. Burns just told CinemaBlend over the weekend that the UNCLE script is finished and ready for the spring 2012 shoot, after Soderbergh casts the film. When originally reading that quote we didn't know the extent to which casting will be required.