Bruce Boxleitner Says 'Tron 3' Is 'A Done Deal'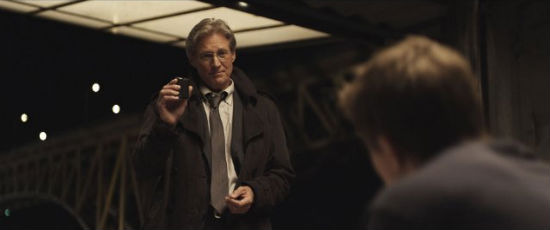 At the D23 Expo last week, speculation ran rampant about what new films Disney would announce. Two years ago, D23 was where they officially announced Pirates of the Caribbean: On Stranger Tides and this year, we got the confirmation of two upcoming Pixar movies. One thing that wasn't mentioned, at least by the Disney executives, was Tron 3, a sequel to Tron: Legacy. We know writer David DiGilio was hired to write a script but nothing is expected to be made official until the new TV show, Tron: Uprising, hits in 2012.
But while the executive were mum when it came to Tron 3, the man himself wasn't. Bruce Boxleitner who played the title character in both movies, told a fan at the convention that the third film is "a done deal" and even dropped a release date: 2013. Don't believe us? Watch the video yourself after the break.
Thanks to Ain't It Cool News for the info. Here's the video.
Now, most likely Boxleitner is referring to the writer being hired but having a screenplay does not a movie make. Is it possible he has inside info? Anything is possible, especially since the third film would have to center on his character because of the tease at the end of Legacy. Still, it's safe to assume Boxleitner is jumping the gun here slightly. While Tron: Legacy was profitable, Disney surely wants to see if their new cartoon is a big enough hit to prove there's an audience for the third film. If it is, and the script is halfway decent, you can bet Tron 3 will hit the grid very quickly. If not, you might want to start searching screenplay websites for an unproduced Tron: Legacy sequel a few short months later.
Do you believe Boxleitner? Is 2013 even possible with the amount of CG that needs to be done?