Superhero Bits: R.I.P.D., The Avengers, Man Of Steel, Dark Knight Rises, Captain America, X-Men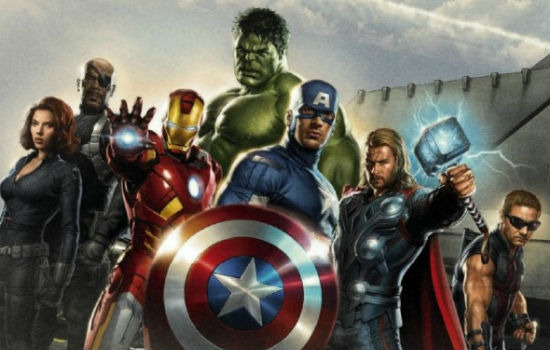 What did Andrew Garfield learn from studying spiders to play the lead of The Amazing Spider-Man? What's the deal with Catwoman's goggles in The Dark Knight Rises and what parts of that movie is filming now? Is Henry Cavill watching Superman movies while filming Man of Steel and what does he look like as Clark Kent? Curious about the first set footage from R.I.P.D.? When does Captain America: The First Avenger come out on Blu-ray and what are the extras? Read about all this, The Avengers, and more in today's Superhero Bits.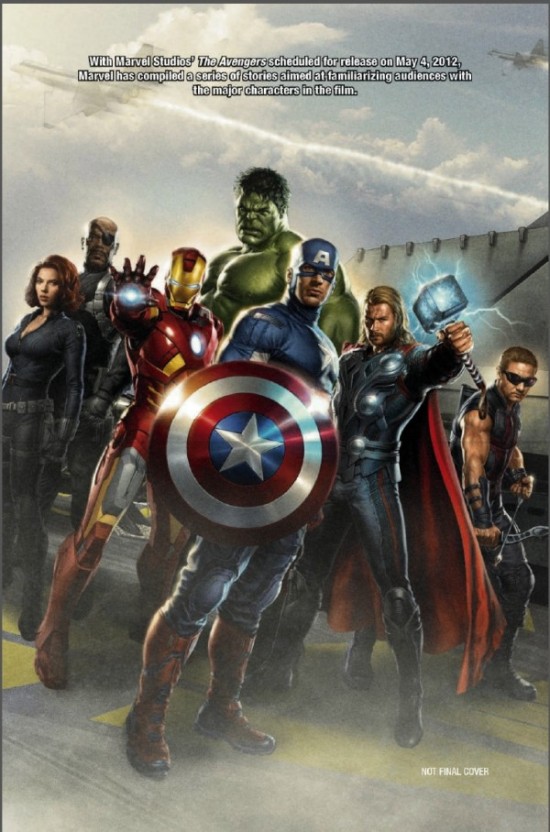 Bleeding Cool uncovered this new look at The Avengers which is a promo for a bunch of new comic books that Marvel will release before the movie hits theaters in May.
Loki is the God of Mischief and Lies, is he not? So Superhero Hype came up with the great idea, because Tom Hiddleston can't talk much about the plot of The Avengers, just make him tell lies about it.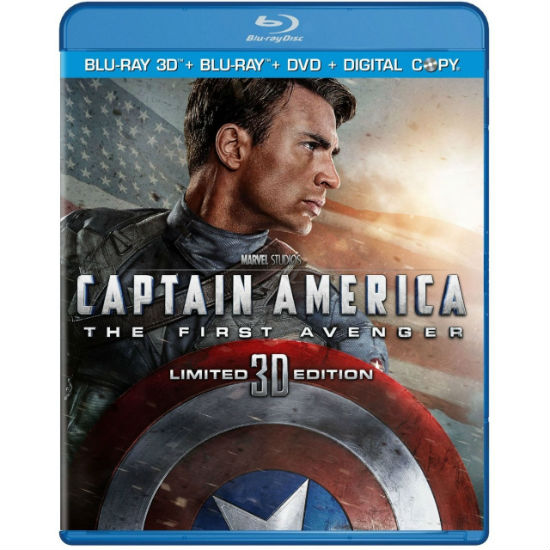 Though it hasn't been officially announced, the Captain America: The First Avenger Blu-ray info has leaked. First released by The Blu-ray Blog, Comic Book Movie picked up the info. It's out on October 25 in both 2D and 3D formats with a slew of documentaries, commentaries are more. There's more at CBM.
Henry Cavill recently did an interview (via CBM) in which he said he hasn't watched any of the old Superman movies looking for inspiration playing the role in Man of Steel. Here's a quote:
When you're doing an origin story, and a reinvention of the franchise, I certainly want to avoid watching too much of the films done previously, or other moving footage, because you can start picking up character traits of other actors' interpretations....The truest source of Superman is the comic books, and I want to immerse myself in those, and bring out what I can bring out from that.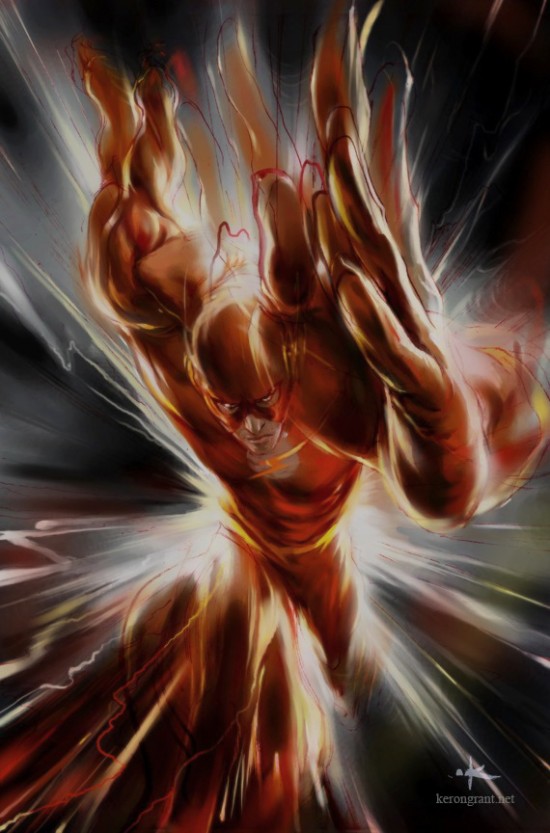 We recently put up an image that Keron Grant did of Superman flying above Metropolis and Forever Geek alerted us to some more. There's Batman and this awesome one of The Flash.
Another week, another interview with a voice cast member of Spider-Men: Edge of Time. This time it's Josh Keaton, Spider-Man himself. Thanks to Superhero Hype.
Andrew Garfield did an extensive interview with the Los Angeles Times Hero Complex about playing the lead in The Amazing Spider-Man and, as part of the article, said that he studied spider movements to help influence his character:
What would having spider DNA constituting a percentage of your blood — what would that do? So I studied spiders, I studied their movements and how they operate in the world and I tried to incorporate as much of that as I could. He's a boy/spider in terms of how he moves, and not just in the suit. It also shapes the way he interacts with people. A spider is so sensitive; their skin is sensitive to everything. That's the thing with the spider sense and the way he takes in everything. Imagine all of your skin was as sensitive as a spider, the slightest gust of wind would feel like a tornado going by. You'd always be rushing, that rush. What does that do to you? The idea of how he adjusts to that. And I looked at the idea of having more legs, more arms, and the spacial awareness. A spider moves up, down, side-to-side, all around. He's not linear and with the knowledge of that spatial awareness and the fact that he can be here and then over there incredibly fast. The stillness of a spider and the lightness I found all of that very interesting to explore as well.
Due to the amount of graphics and images included in Superhero Bits, we have to split this post over THREE pages. Click the link above to continue to the second page of Superhero Bits.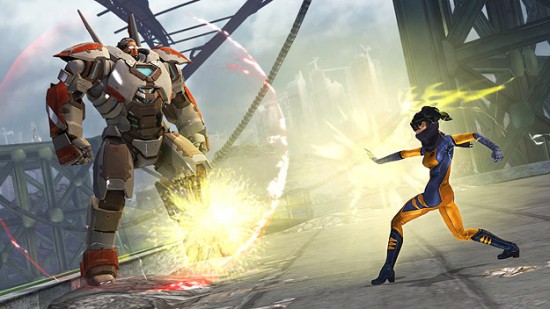 Superhero Hype has posted a bunch of new images from the upcoming game X-Men Destiny. It looks solid.On Twitter, a fan asked The Rock which superhero he'd like to play and he responded with this:
I would love to play Luke Cage. Love that superhero. I'd crush it.
If you watched the Video Music Awards over the weekend, you probably saw this X-Men First Class Blu-ray commercial.
Green Lantern has officially crossed $200 million at the box office. Thanks to Box Office Mojo.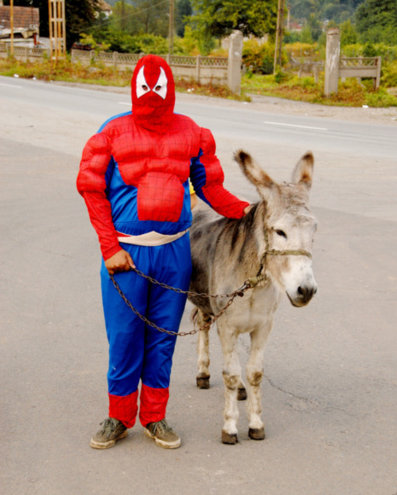 This photo pretty much speaks for itself. Spider-Man has let himself go. Thanks to The Clearly Dope via Fashionably Geek.
Spider-Man took on Hurricane Irene head on this past weekend. Thanks to Bleeding Cool.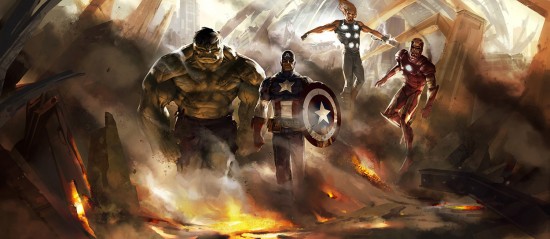 If you thought that Avengers image at the top was cool, check out this piece of concept art done by Manarama for the abandoned Avengers video game. Really good looking stuff. Thanks to Deviant Art (via CBM).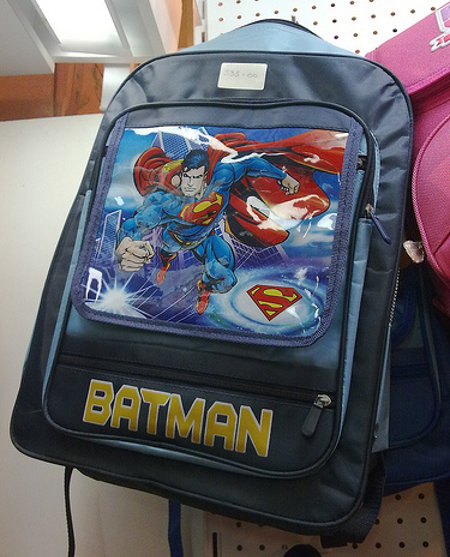 This made me laugh. It's from a Geeks Are Sexy post called "Dear China, Please Stop Manufacturing Stuff Like This" and is just the tip of the iceberg.
THE NEXT PAGE HAS SPOILERS FROM THE DARK KNIGHT RISES, R.I.P.D., THE AVENGERS and MAN OF STEEL. BE WARNED.
Due to the amount of graphics and images included in Superhero Bits, we have to split this post over THREE pages. Click the link above to continue to the third page of Superhero Bits.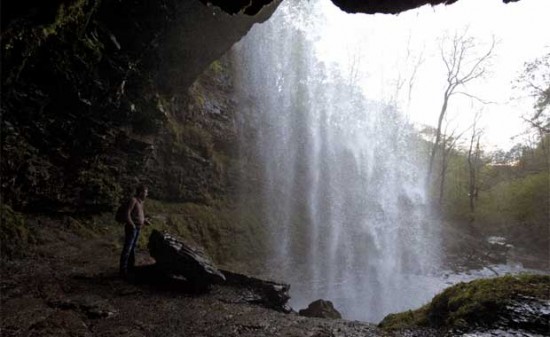 Wales Online (Via CBM) reports that The Dark Knight Rises shot a huge waterfall in the Brecon Beacons in Wales (above) that's going to double as the exterior of the Batcave and that Bruce Wayne will discover it near the beginning of the film. Read more at the above links.
Check out this video of helicopters approaching the set of Man of Steel thanks to Comic Book Movie.
[No photo]
Hey! Look it's Henry Cavill as Clark Kent in Man of Steel. No glasses! Thanks to the Man of Steel Facebook page via The Daily Blam.
A statement given to Cleveland.com (via CBM) by one of the producers of The Avengers confirms several things about the recent filming in Cleveland, which has now come to a close. Only Thor and Cap were fighting on the streets, Hawkeye was indeed at NASA with Nick Fury and neither Iron Man or Hulk even made it to the city. Plus, Black Widow infiltrates a Russian facility. Read more at those links.
Fox 8 Cleveland (Via CBM) posted this video of fans watching Avengers filming. The clip also shows a massive explosion.
According to Manny the Movie Guy (via CBM), a source of his confirmed that Anne Hathaway's goggles in The Dark Knight Rises, when pulled back into a headband, look like cat ears.
[No photo]
The Dark Knight Rises is filming in Los Angeles and while security is much tighter than it was in Pittsburgh, some images have leaked. This one above, along with a bunch of other zoom ins, suggest there's a bike chase between Batman and Bane's thugs. Head to Comic Book Movie for further evidence and to see Morgan Freeman as Lucius Fox.Cleveland (via CBM) is doing their best Pittsburgh impression, catching every bit of filming on The Avengers including this clip of Captain America and Loki (not the actors, but stunt doubles) choreographing a fight.
Thanks to Collider, this is the first set footage from R.I.P.D. It shows Marisa Miller and James Wong, the real world avatars of stars Jeff Bridges and Ryan Reynolds respectively, walking through Fenway Park.
Bleeding Cool seems to found a possible MAJOR SPOILER for The Avengers on the IMDB page for the film. We've saved this until last because, it's a huge reveal – much bigger than a fight or something. It's a rumor but, here's what they found:
The cast now includes Cobie Smulders as down for the role of Maria Hill/Anelle. If you've read the comics then you'll know that Anelle is in fact a Skrull.