'The Rum Diary' Trailer: Johnny Depp And Hunter S. Thompson, Round Two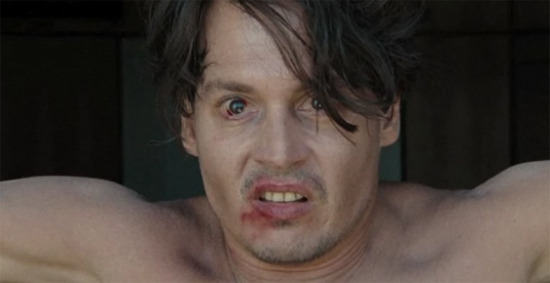 We've been waiting quite some time to see anything besides still photos from The Rum Diary, in which Johnny Depp stars as Paul Kemp, essentially a stand-in for Hunter S. Thompson as seen in Thompson's early novel The Rum Diary. The film went into development quite some time ago and shot in 2009. It won't hit the festival circuit this fall, but it will hit some theaters in October and you can see a trailer below.
In addition to Depp, Richard Jenkins features as Kemp's editor, with whom he has a contentious relationship, and Amber Heard plays Chenault, the partner (more or less) of Sanderson (Aaron Eckhart), both of whom he meets while spending some time in the Caribbean. The great Bruce Robinson (Withnail & I, How to Get Ahead in Advertising) wrote and directed.
Check out the trailer below.
Yahoo now has the HD version.
Tiring of the noise and madness of New York and the crushing conventions of late Eisenhower-era America, journalist Paul Kemp travels to the pristine island of Puerto Rico to write for a local newspaper, The San Juan Star, run by downtrodden editor Lotterman. Adopting the rum-soaked life of the island, Paul soon becomes obsessed with Chenault, the wildly attractive Connecticut-born fiancée of Sanderson. Sanderson, a businessman involved in shady property development deals, is one of a growing number of American entrepreneurs who are determined to convert Puerto Rico into a capitalist paradise in service of the wealthy. When Kemp is recruited by Sanderson to write favorably about his latest unsavory scheme, the journalist is presented with a choice: to use his words for the corrupt businessmen's financial benefit, or use them to take the bastards down.
The Rum Diary opens on October 28. [Movieline]