'Captain America 2' Screenwriters Want '40s Scenes, Sharon Carter And The Falcon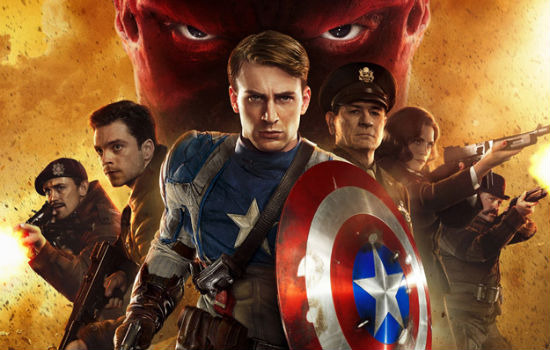 Captain America: The First Avenger is one of the most successful films of the summer, and a better Captain America movie than I think many people expected to see. The film will get a semi-sequel in the form of The Avengers, which next year will show what happens when Cap is integrated into the modern world after being accidentally frozen and assumed dead during World War II.
But a proper sequel to the film is being developed as well. Questions have been fired at Cap director Joe Johnston, Marvel president Kevin Feige and screenwriters Chris Markus and Stephen McFeely: what's the story in the second film? Will it be a WWII tale, a modern thing or some blend of the two? And will we see the return of sidekick Bucky Barnes, who in the print comics continuity becomes a character called The Winter Solider?
Answers to those questions have been tentative at best. A new interview with Markus and McFeely has them talking a lot about possibilities for the sequel, but you'll have to do a lot of informed reading between the lines to draw hard and fast conclusions.
Markus and McFeely talked to NBC, and they said mostly the same things about Captain America 2 that they've been saying all year. They just used a lot more words. Here are three big block quotes that are worth a look:
We certainly want at least a portion of the '40's, I think... The span of the movie is about two or three years, and there's a few times in the film where you jump four months ahead, you jump six months ahead. So we did that with the intention of saying, 'Okay, there are certainly unseen adventures that Captain America went on in that period that if we want to, we can go back and explore later.'
It might be doing a disservice not to address the present day Cap, particularly because so much of the comic book run right now is present day Cap – that 'man out of time' is the icon. The Captain America that most people know is really from kind of the reboot, when Stan Lee brought him back in '63 and '64, frozen from a block of ice. So his biggest personality trait is that he's this man out of time, and for us, we didn't have the opportunity [to explore that]. This was a guy in the RIGHT time.
[Asked about Sharon Carter and the Falcon.] I want both of them! Sharon is meaty, almost to a point where you get a little uncomfortable because her relation to Peggy has shifted over the years, as time has passed. She's the sister, she's the cousin, she's the niece. You have to walk a fine line there because it does seem like you're dating your girlfriend's daughter. Falcon is awesome. We can't play with time so much to have Cap go back to Harlem in the '70's and clean up the streets, but it would be awesome to go straight up, like, 'Shaft' with Cap and the Falcon.
All of these statements continue to add up to something that suggests one big possibility: The Winter Soldier. That story would have modern Captain America, flashbacks to the '40s version of the character, Sharon Carter, and the Falcon. It's something that has been hinted at more than once and certainly seems like the best direction for the sequel to take. This remains speculative for now, but we'll continue to hope that Marvel makes a good choice here. [via GeekTyrant]