'Tyrannosaur' Trailer: See Peter Mullan's Searing Command Performance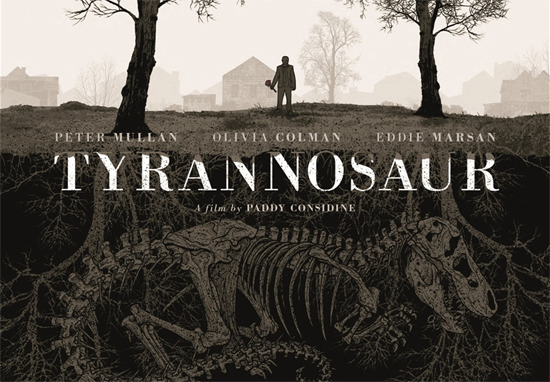 Actor Paddy Considine's first feature as a director is Tyrannosaur, which features the always reliable, often impressive character actor Peter Mullan as a violent, self-destructive alcoholic who strikes up a friendship with Hannah (Olivia Colman, of Hot Fuzz), a Christian charity-shop worker. Considine adapted the feature from his previous short Dog Altogether, and has said that "mainly [Tyrannosaur is] about my interpretation of life, and trying to function as a human."
The film got outstanding reviews at Sundance early this year, and is set to play TIFF next month. Now there is an absolutely outstanding trailer that shows off the film's grit, and suggests that Considine's impression of life is a vision of harrowing experience.
Eddie Marsan looks a bit wild and intimidating — his first appearance in the trailer is a killer — but goddamn, look at Peter Mullan. Every moment he's in, he's on, 100%. I've admired the guy since Trainspotting, and he's given powerful performances in the past, but this looks like a whole new level. The strength of Sundance reviews and my general interest in the work of all the people involved here already had me wanting to see the film, but these images of Mullan baring his teeth and soul have increased my interest in the film immeasurably.
Tyrannosaur is the story of Joseph (Peter Mullan), a man plagued by violence and a rage that is driving him to self-destruction. As Joseph's life spirals into turmoil a chance of redemption appears in the form of Hannah (Olivia Colman), a Christian charity shop worker. Their relationship develops to reveal that Hannah is hiding a secret of her own with devastating consequences for both of them.
Here's the poster for the film, which artist Dan McCarthy adapted from his previous piece 'What Once Was.'