'Mystery Team' Helmer Dan Eckman To Direct 'Community' Episode, Adapt 'The Boy Who Couldn't Sleep And Never Had To'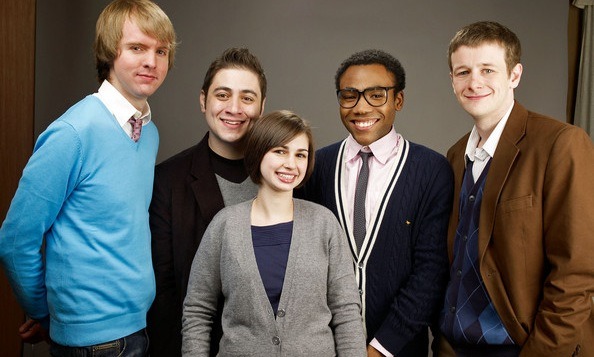 We may receive a commission on purchases made from links.
Derrick Comedy may not be a household name quite yet, but it's likely you've stumbled across some of their work before. (At the very least, you're probably aware of its most famous member, Donald Glover.) The comedy group met as students at NYU, and quickly gained a following for their Internet videos, including "Bro Rape" and "Blowjob Girl," featuring a pre-Office Ellie Kemper.
Derrick Comedy then made a leap to the big screen in 2009 with Mystery Team, an underrated indie comedy about three naive high school detectives who get in over their heads. Now the film's director, Dan Eckman, has lined up a couple of new projects that'll reunite him with some of his Derrick Comedy teammates. Read more after the jump.
Eckman is also set to helm The Boy Who Couldn't Sleep and Never Had To, based on Pierson's debut novel of the same title. A friend sent me the book several months back (thanks, Adam!), and I can attest that it's a terrific, unusual story that should translate beautifully to the big screen. Although the plot incorporates touches of sci-fi and fantasy, it is at heart an honest coming-of-age tale about two friends — one of whom, yes, can't sleep and never has to. It'll be a bit of a departure for the group in that the book isn't really a comedy, though it definitely has a sense of humor.
Eckman penned the screenplay adaptation with Pierson and McFadden, and they're currently shopping the script to studios and production companies in hopes of making The Boy Who Couldn't Sleep Eckman's next directorial effort.
Here's the back-of-the-book synopsis of the novel:
When Darren Bennett meets Eric Lederer, there's an instant connection. They share a love of drawing, the bottom rung on the cruel high school social ladder and a pathological fear of girls. Then Eric reveals a secret: He doesn't sleep. Ever. When word leaks out about Eric's condition, he and Darren find themselves on the run. Is it the government trying to tap into Eric's mind, or something far darker? It could be that not sleeping is only part of what Eric's capable of, and the truth is both better and worse than they could ever imagine.
It is currently possible to get a used copy of The Boy Who Couldn't Sleep and Never Had To on Amazon.com for less than $5 including shipping. I'm just saying.
Eckman, Pierson, and McFadden also recently collaborated on MTV's Worst. Prom. Ever., which was directed by Eckman with McFadden executive producing and Pierson co-producing. It probably won't go down as their most seminal work, but I do love that these guys seem to love to stick together.
[EDIT: An earlier version of this story failed to include a reference to the source at Collider. Post has been updated to include a link.]