West Memphis Three: HBO Considers Fourth Doc; Peter Jackson Financing Continuing Murder Investigation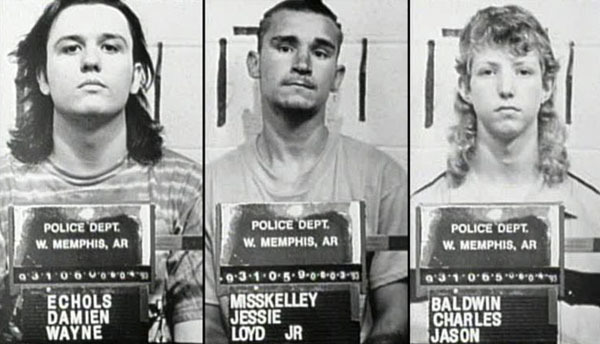 The West Memphis Three — Jason Baldwin, Jessie Misskelley Jr., and Damien Echols — may be free, but their story isn't over. Driven to enter guilty pleas and accept 'time served' sentences in order to return to the free world, the men are saddled with felony records for crimes that very few believe were ever proved to be their responsibility. Joe Berlinger and Bruce Sinofsky, who brought the Three to global attention with the documentary Paradise Lost: The Child Murders at Robin Hood Hills, are prepping their third movie about the WM3, which will premiere soon at TIFF before hitting the New York Film Festival and finally playing on HBO.
HBO now thinks there could be a fourth film to be made about the case, based on the manner in which the WM3 had to plead guilty in order to become free. And, in a related note, Peter Jackson and Fran Walsh continue to support the WM3 by further bankrolling an investigation into the people truly responsible for the murders of three 8-year old boys in 1993.
HBO documentary president Sheila Nevins, who saw a small New York Times article about murders in Arkansas that led to Berlinger and Sinofsky making Paradise Lost, is among the many responding to the events of the past week. To THR, she said of the case,
...there's still an irony. Under the law, they're now "innocent but guilty." Guilty but innocent? What the hell is that all about? Don't tell Joe but maybe there's another film there. I think we're ready for Paradise Lost 4. [...] If you're guilty, how can you be innocent? Something's wrong with the system. They have to be free because they are innocent. We have to prove that, and I don't know how we do that. We'll have to really work on that.
For his part, Berlinger sounds like he's currently overwhelmed by the turn the case took in the past week, not to mention of the past 18 years. He told IndieWire,
If HBO thinks there is a film to be made, we will certainly keep that door open. Emotionally, however, it does feel like it's the end of an era.
Should HBO truly decide to pursue a fourth film, the company could end up having an unlikely pair of allies in Peter Jackson and Fran Walsh. They were instrumental in financially assisting the WM3 defense over the past few years, and will continue to put money into the case. Now, however, they'll be funding an investigation into the real killer(s) of the three boys whose deaths led to convictions of the West Memphis Three.
Jackson's manager Ken Kamins told EW, "the ongoing work will focus on proving the convicted men's innocence, as it always has," with "evidence testing and further investigation which will hopefully lead to the unmasking of the actual killer." Jackson's manager explains,
When Peter and Fran got involved, they had to decide how to best serve the case. [...] [they] decided to put their attention into funding and spearheading DNA work, hiring forensic and other experts, plus extensive private investigations into all aspects of the case. [...] This work is ongoing. Peter and Fran are heavily involved in ongoing investigations, and the release of the guys is far from the end of the story.