We Break Down Christian Bale's Five Possible Choices After 'The Dark Knight Rises'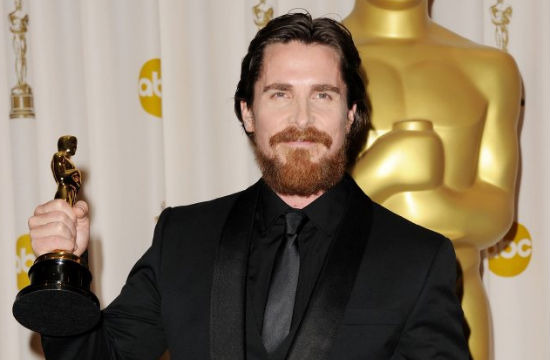 Very rarely do fans get a glimpse into the decision making process of major stars. All we know is that the biggest actors in Hollywood can often seemingly do whatever they want, so people like Johnny Depp, Will Smith, Leonardo DiCaprio and Tom Cruise get their pick of the best scripts out there. It seems like Christian Bale could be joining that elite list.
The recent Oscar-winner (something none of those other men can claim) slips seamlessly between smaller characters pieces, like The Machinist, and massive blockbusters like The Dark Knight Rises. According to Variety, Bale has a pretty impressive list of projects he can choose from after he hangs up Batman's cowl. Think of the info that follows as a glimpse at Bale's own personal desk. Will he choose A Star is Born directed by Clint Eastwood, Gold directed by Michael Mann, Oldboy directed by Spike Lee, Out of the Furnace directed by Scott Cooper or, as previously reported, Noah directed by Darren Aronofsky?
After the jump, we break down the latest on each of these projects and figure out where Bale would best fit in.
In Variety's article, they are quick to point out the following about all of those films:
At this time, Bale has not attached himself to any of these projects, nor has he identified any one as a front-runner. And that's because, studio insiders say, he's really sticking to the plan: Look to the future only after finishing "The Dark Knight Rises."
They also point out that Christopher Nolan's film won't finish shooting until November and that all of the aforementioned films start shooting early 2012. The timing works out perfectly. Here's what we know about each film and how Bale might fit in.
A Star is Born – Clint Eastwood is directing and Beyonce Knowles is starring. The latter would bother me except for how much I trust the former. Last we heard, Eastwood wanted his J. Edgar star Leonardo DiCaprio for the lead male role of Norman Maine, "a fading star with a drinking problem who helps to launch the young starlet's (Knowles) career." As fantastic as DiCaprio is, Bale certainly does the the gruff thing better (he just won an Oscar for it) and all actors want to work with the legendary Eastwood. Plus, it would be great to see Bale go back to his musical roots. Newsies anyone?Gold – Described as an adventure in the vein of The Treasure of Sierra Madre, Gold was rumored to only be produced by Michael Mann but now it seems he's thinking of directing. And, if this report is serious, it could be his next film. A previous report says the lead role in this, too, was out to Leonardo DiCaprio. However, Bale will be coming off one huge action movie and this feels pretty similar. Plus, he's already worked with Mann so you've got to think Bale will want something different.Oldboy – Spike Lee has been attached to remake this cult classic by Chan-wook Park for a few months and the last rumor was he wanted Josh Brolin to play the lead character, a man imprisoned for (seemingly) no reason who dishes out revenge when he gets out. Variety actually has some new info here in that Bale is being looked at as the main villain for the film, the man who locks up our hero. Lee's remake could go any number of ways and seeing Bale channeling a little of his old Patrick Bateman energy sounds incredibly exciting.Out Of The Furnace – Another possibility for Bale where Leonardo DiCaprio is in the mix. This film was one called The Low Dweller and had DiCaprio attached to star and Ridley Scott attached to direct. Scott is now off it, though, and DiCaprio is just a producer while Scott Cooper (Crazy Heart) is rewriting and set to direct. It's an Eighties period film about a man who is released from prison hoping to restart his life but is dragged back into a life of crime when he finds his brother has been murdered. Sounds like a very meaty role and Cooper is a rising talent. This is a distinct possibility.Noah – Before today, this is the only film of these five that we'd heard Bale's name attached to. Directed by Darren Aronofsky, coming off the massive hit Black Swan, the sweeping, epic tale of Noah's Ark was just recently rumored to be set for co-financing by Paramount, all but assuring a $150 million budget. That could be attractive to Bale but, you've got to think, working with Aronofsky and playing such an iconic, non-comic book character, looks even better.
Once you've digested all that information, it's pretty clear that Bale has a tough decision to make. Throw in the fact that Variety says he's now off The Last Photograph and reportedly, he's been cast in Terrence Malick's new film, and it's even more complex.
Every one of these projects seems like it has a ton of potential and, with the exception of Gold, offers Bale the opportunity to work with someone new and talented. If you look back at his resume, that always seems to be a huge factor.
Which of these projects do you think Bale is best suited for? And is that the project that you think he'll end up choosing?