David Foster Preparing To Pitch New 'Star Trek' Series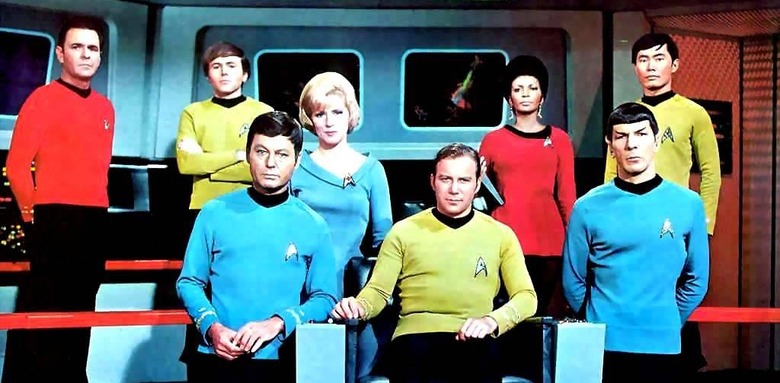 When Star Trek: Enterprise was cancelled in 2005, it marked the end of an era: the franchise had had at least one ongoing series on the air since Star Trek: The Next Generation debuted in 1987. That hasn't dampened the enthusiasm of Trek enthusiasts any, though, and J.J. Abrams' hit 2009 film introduced the franchise to a whole new group of fans. Might it be time for a new Star Trek series?
David Foster of 1947 Entertainment thinks so. He's not the only one — we've already told you about a failed Bryan Singer Star Trek pitch and a very, very tentative animated Star Trek idea — but in contrast to the other two, Foster's project sounds like it may actually get off the ground. In a recent interview, Foster spoke a little bit about the premise of his new show, the development process, and reaching back to Gene Roddenberry's original vision. Read more after the jump.
The series concept is fully developed, subject to change of course, with a solid 5-7 year series plan, pilot script and a conceptualized finale that intends to define Star Trek for generations, extensive character bios, costume and ship/set designs, and more. This is a drastic departure from the typical 8-10 page treatment of the previously pitched Star Trek series ideas that have not included even a pilot script.
Foster envisions his series as a return to Roddenberry's original concept. "[W]hile Star Trek has moved on with other series that were not exactly in line with Gene's original vision, the roots are there to tap into," he said. Don't expect something too old-fashioned, though — Foster also lists Joss Whedon, Ron Moore, Manny Coto, and J. Michael Straczynski as his inspirations on his site.
Timeline-wise, the new series will very definitely be moving forward. The show will take place in the post-Voyager era, and will remain faithful to pre-2009 canon as well as Star Trek: Enterprise canon. (Since Abrams' 2009 film took place in an alternate timeline, Foster's story would not be in conflict with Abrams'.)
Although Foster was reluctant to spill too many details, he revealed a bit about the plot:
The series is highly energized with a much younger cast, and uses cutting-edge future technologies with newly envisioned special effects and designs. It includes Klingons, Ferengi, Andorians, Vulcans, Trill, and many more. The Klingons are getting very restless since the Praxis incident forced them to come to the peace tables, and are tired of having to rely on the Federation for support. The Ferengi have discovered a vast new resource that has propelled them towards instant riches and power beyond anything they have previously experienced.
Later in the interview, he also offered up this "teaser": "If evil wore the face of a hero, would you recognize it? If freedom came in the likeness of your oppressors, would you accept it? If you were your own enemy, who would be victorious?"
An AfterElton.com story published earlier this year suggested that Foster's project would involve two openly gay characters — a male lead character and a secondary female character — but Foster did not go into details about the characters in the more recent interview.
Foster happily reported that he'd already gotten the encouragement and advice of several people involved with previous incarnations of Star Trek, including former producers, artists, and writers. However, there are still several steps to go before Foster's vision actually comes to life. The production is currently seeking an executive producer to help pitch the project to CBS.
The current film series is still going strong, with Abrams preparing to start production on his second Star Trek film early next year. But that certainly doesn't mean there's no room for a television series. I've never been much of a Trek fan, myself, but if Foster really does succeed in combining Roddenberry's "positive view of the future" with touches of Whedon and Moore, sign me up.
Discuss: Would you watch Foster's proposed Star Trek series?