LOL: See The Temp Logo For 'The Untitled Pixar Movie About Dinosaurs'

Over the weekend at Disney's D23 Expo, Pixar announced two new films. One is jokingly called The Untitled Pixar Movie About Dinosaurs, to be released on November 27, 2013. The film is directed by long-time Pixar veteran and voice actor Bob Peterson (he voiced Dug the dog in Up) and co-directed by Peter Sohn, also a Pixar vet with storyboard and animation experience, and who directed the short Partly Cloudy.
A temp logo was shown off at the expo, and while it doesn't likely tell us anything at all about the film — it just plays with the joke of the temp titled –  you can now see that image below.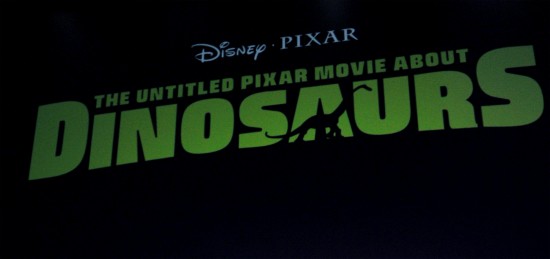 The plot for the movie is described only as:
What if that life-changing asteroid missed Earth? Director Bob Peterson's hilarious tale depicts a world where dinosaurs never went extinct.
Pete did a great job
breaking down the history behind the project
when he posted from D23 over the weekend, so be sure to check his post if you want some far more substantial speculation about the film.