Must Watch: 'Portal: No Escape'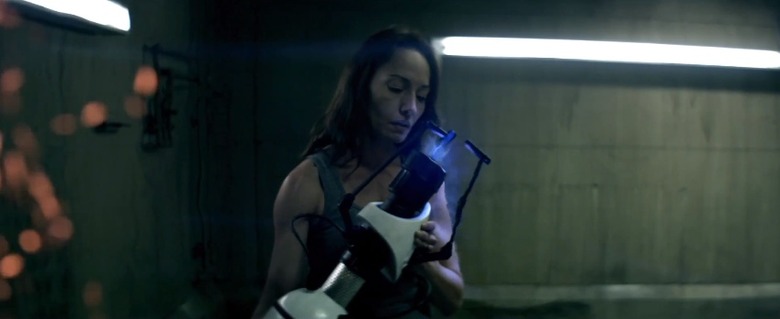 Portal: No Escape is a must see for everyone, but especially video game fans. The film is directed by Dan Trachtenberg, who has been directing commercials for the last few years, slowly working towards his feature film directorial debut. In May, he directed a horror short film "More Than You Can Chew" for Black Box TV, which got a bunch of people in Hollywood talking. Dan surprise premiered a new short film at Comic-Con, which was met with a standing ovation by the almost packed crowd. The film brings a grounded realism to this sci-fi concept, which is rarely seen in video game movie adaptations. Watch Portal: No Escape now embedded after the jump.Trivia:
?The movie stars Danielle Rayne, who has been working on tv for the last two decades, including a regular stint on All My Children.
If the strong female action character reminds you of Sarah Conner, it isn't a coincidence — Rayne played Conner in the Terminator 2: 3D show at Universal Studios Hollywood.
Some of you might recognize director Dan Trachtenberg from his appearances on the /Filmcast. More people know Dan from his highly successful internet television show the Totally Rad Show.
Diggnation/TRS host Alex Albrecht has a cameo as one of the masked guards.
The film is scored by Mike Zarin, who is probably best known as the composer of the first Inception trailer (listen here). While Zack Hemsey gets most of the credit with his trailer song "Mind Hiest", Zarin was the composer responsible for the now infamous "BRRRRRRRAAAAAWWWWRWRRRMRMRMMRMRMMMMM!!!" which not only the other Inception trailers built upon, but went on to influence Hans Zimmer's approach for score for the film.
Dan's brother David Trachtenberg edited the short. David has edited episodes of HBO's "Funny or Die Presents..." and is cureently working on the upcoming Will Ferrell/Gael García Bernal comedy Casa de mi Padre.
Visual Effects Supervisor Jon Chesson has worked on the television series V, True Blood, Falling Skies and the upcoming film Mission: Impossible – Ghost Protocol.