TV Bits: Anne Hathaway Wants To Be On 'Glee', Fox Picks Up FBI Drama From 'Fight Club' Writer, Young 'Mad Men' Actor Disses January Jones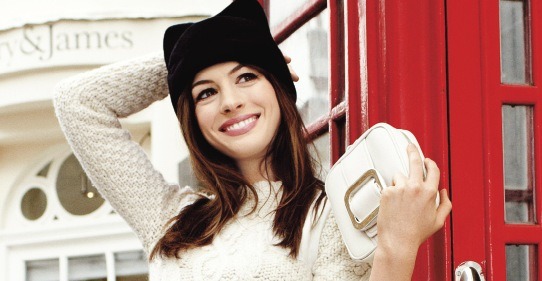 Glee may be getting a high-profile guest star next season. Anne Hathaway first expressed her desire to come on the show last fall, and show creator Ryan Murphy confirmed to press this past January that he planned to have the actress on the show, possibly in the role of Kurt's (Chris Colfer) lesbian aunt. However, several months later, Hathaway's still waiting for the call from Murphy, so she decided to call Murphy out on a recent interview. Hathaway recounted the story to Buzz Sugar:
Ryan Murphy goes, "Anne Hathaway! Come on Glee." And I said, "Yes!" and he said "Fab, I'll call you." He went back to the press room and said, "Anne Hathaway is going to be on the show." And I never heard from him again. Ryan Murphy, I'm calling you out: I want to be on Glee. I've got my songs picked out.
I've got my fingers crossed that at least one of those tunes is a rap song — I wouldn't want her skills, as recently demonstrated on Conan, to go to waste. [Vulture]
After the jump, Fox grabs a drama by Fight Club writer Jim Uhls, and the kid who played Bobby Draper on Mad Men gets amusingly frank about his former TV mom.
Jared Gilmore, who played Bobby Draper on Mad Men, recently announced that he would be leaving the series for AMC's Once Upon a Time. That's not the big news here, though. On his way out, he offered some candid advice to his yet-to-be-cast successor: "Be careful around January [Jones]. She's not as approachable as the others. She's really serious about what she does. Everyone else is so nice."
Ouch. To be fair, that's a pretty tactful way for a ten-year-old to say "She sucks" — I doubt my fifth-grade self could've come up with something so eloquent. Jones has not responded publicly at this time, probably because it's difficult to formulate an appropriate public reaction to an insult when your antagonizer is a cute little kid. Gilmore was the third actor to portray the character of Bobby Draper, after Maxwell Huckabee and Aaron Hart. [TV Guide]
Fox has picked up a new drama titled Tightrope, by Fight Club writer Jim Uhls. The story follows an FBI agent who excels at tracking down and manipulating criminal informants, "turning them trusting and trustworthy." However, the methods he uses may not exactly be moral. Not exactly an in-depth description, I know, but that's all we have to go on for now.
Uhls' most recent gig was the screenplay for Jumper. He'll be executive producing the project with Peter Chernin and Katherine Pope (Breakout Kings). [Variety]