VIDEO BLOG: Reactions To 'The Muppets,' 'The Avengers,' 'John Carter,' 'Oz The Great And Powerful,' 'Wreck-It Ralph,' 'Brave' [D23 Expo]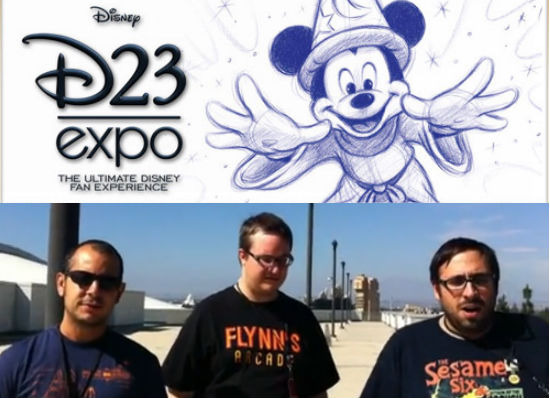 The worst thing about Disney not allowing any cameras or phones into their big movie panel at last weekend's D23 Expo is, instead of seeing gorgeous images from The Muppets, The Avengers, John Carter, Oz The Great And Powerful, Wreck-It Ralph and Brave, you get three film-bloggers on a rooftop.
In an effort to let everyone know what exactly was show at the D23 Expo, and what we all though of it, Germain Lussier and Peter Sciretta joined Alex Billington of FirstShowing to discuss the brand new footage from all of the above movies. The conversation, which took place on the roof of the Anaheim Convention Center with Disney's California Adventure as a back drop, was long but we've got it broken down by time so you can pick and choose what you want to watch. Check it out after the break.
Here's the breakdown of when you can find info on each of the below movies. Links are to more detailed descriptions of the footage.
000-1:08 – Intro
1:08-4:03 -  The Avengers
4:03-6:38 -  The Muppets
6:38-9:10 -  Oz The Great and Powerful
9:10-13:49 -  John Carter
13:49-17:49 -  Wreck-It Ralph
17:49-21:18 -  Brave
21:18-End -  Monsters University
Here's the video.
D23 Footage Reaction Video Blog from /Film on Vimeo.
Don't forget, each of these films showed less than five minutes of footage – in some cases, much less. Disney, Marvel and Pixar were generous enough to show even that much considering all of these films are currently still in some phase of production. Only The Muppets will be out in 2011 and the rest are 2012 and 2013 so there is still much work to be done. These are our thoughts based on what we saw in this isolated situation.
After listening to our reactions, is there anything you're more or less excited about? Are you surprised that one person reacted in any specific way to any of the videos?