Patton Oswalt And Johnny Knoxville Cast As Brothers In New Untitled Comedy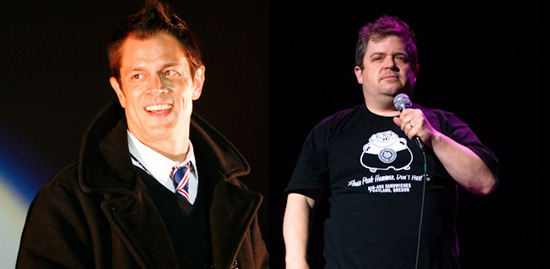 Patton Oswalt is set to take his biggest film role since starring in Big Fan in an as-yet untitled comedy from Todd Rohal, director of The Catechism Cataclysm. The new film ("an outlandish yet poignant comedy," says the press release) will feature Oswalt and Johnny Knoxville as "a pair of battling brothers who attempt to honor their ailing father by taking a troop of boys on a last ditch camping trip that goes wildly wrong."
Rohal wrote and will direct the film, which is loosely based on his own childhood experience. David Gordon Green is an exec producer on the project, which begins shooting this week with Rob Riggle, Maura Tierney & Patrice O'Neal in supporting roles.
Producer Peter Sarag, of Big Beach Films (Our Idiot Brother), said,
Todd looks at the world through a different set of lenses than the rest of us, and yet his vision managers to be simultaneously unique and universal. [...] I think that's because his humor, while twisted at times, is fundamentally compassionate and truthful. The combination of Todd with this hilariously amazing cast is going to make for an exciting ride, and we're tightening our seatbelts.