10 Things You Need To Know About Pixar's 'Monsters University' [D23 Expo]

Pixar's Monsters Inc prequel Monsters University tells the story of how Mike Wazowski and Sulley became friends during their college years at scare school. This weekend at D23 Expo, we learned a lot more about the project. Hit the jump to read the ten things we learned about Monsters University, and even see some unfinished concept renderings of what young Mike and Sulley will look like in the movie.
Director Dan Scanlon started with Pixar as a writer and storyboard artist for Cars, and made his directorial debut alongside John Lasseter on the Cars Toon short film Mater and the Ghostlight.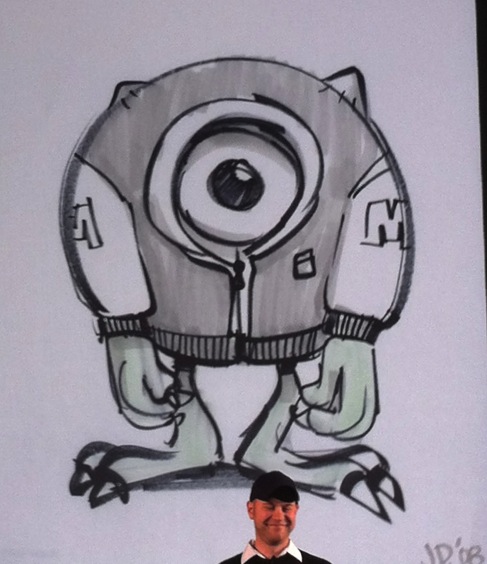 1. Pixar Has Been Developing Monsters University For Years
One of the early concept drawings of an early Mike in college was dated 2008, which goes to show you just how long this Monsters Inc prequel has actually been in development. It's kind of amazing that we only learned that it would be a prequel storyline earlier this year. To give you an idea of the timeline, Ratatouille was just completed when they began concept work for this film — it was that long ago.
2. Monsters University is an Animated College Movie Set in the Monster World
Billy Crystal says that the movie is "different than anything you could imagine Monsters Inc could become." Scanlon says that college is a time in life where you question who you are and what you're going to become. Same can be said for Mike and Sulley's time at Monster University. So the film is kind of like your favorite college movies, but Pixar has found ways to "monsterize" the college experience.
3. Mike and Sulley Began As Rivals
In Monsters Inc, Mike and Sulley had a great friendship, but it didn't start out that way. Turns out that they began as rivals. Apparently in the world of Monstropolis, being a "scarer" is almost the equivalent of being an astronaut in the human world. Scare school is an elite program, and Mike and Sulley are both competing against one another for a coveted job.
4. Pixar Employees Toured Top Universities As Research
Anyone who follows Pixar's development process probably knows that the animation studio's artists usually take research field trips while developing new films. For Cars, they traveled across America on Route 66. For Ratatouille, they took a trip to Paris to study the city and eat in some of the fine restaurants. For Up, they took a trip to South America to study the the strange wilderness of the region. For Monsters University, Scanlon and crew took tours of Ivy league college campuses. Scanlon joked that they did this research because most of the Pixar artists and animators "went to art school and have no idea what real college is like."
5. Monster University Looks Like a Monsterized Version Mash-up of MIT meets Harvard
The college campuses Pixar visited as research included Harvard, MIT and Berkley, so its no coincidence that the concept art of MU looks like a mix of the Northeastern universities. Most of the buildings are made up of red bricks. The scaring school is built with concreate and is said to be one of the oldest buildings on campus. They have monsterized the campus by making archways look like mouths and putting horns on many of the roofs.
6. We Will See Hear Some Familiar Faces VoicesJohn Goodman and Billy Crystal recently completed their first recording session for the project. Scanlon confirmed that Steve Buscemi is signed on to reprise his role as a young Randall Boggs, although we don't know where or how we'll meet him. And while we don't know what other characters from Monsters Inc will appear in the film, Scanlon hinted that we will see some other familiar faces. I can almost guarantee that we'll see Roz, George (the orange monster who gets shaved), and maybe a couple others.7. We Will Meet Some New Monsters
At the presentation, they announced new additions to the film's voice cast: Dave Foley, Julia Sweeney, Joel Murray and Peter Sohn (the Pixar animator who voiced Emile in Ratatouille and directed Partly Cloudy). Foley is a Pixar regular at this point, playing the main character of Flik in A Bug's Life, and brief appearances in Toy Story 2 and Cars.
In college you meet many different interesting and sometimes strange characters, and MU is no different. We saw concept art of "cool" frat monsters, nerd monsters and goth monsters, as well as an assortment of Monster professors.
8. Mike and Sulley Look Different, Younger
(contribution by Germain Lussier)
Later in the day, director Dan Scanlon and production designer Ricky Nierva held a panel called The Characters of Monsters University where they detailed exactly how they plan to age Sulley and Mike back to their college years.
In the case of Mike, he's skinnier with bigger eyes and, because of that, the proportions of his legs and arms slightly. He's a brighter, more vibrant green, his horns are slightly less pronounced, he doesn't have bags under his eyes and his freckles are less pronounced. Most of these are details you'll only notice when you look at Monsters Inc. Mike next to Monsters University Mike and Scanlon knew that. So, he agreed that Mike needed a "hook." After doing a ton of different designs giving Mike hair, braces, clothes and more, the settled on a simple retainer.
Sully is a little simpler than Mike. His "hook" is that he's skinner and shaggier. Scanlon described it as bed head. But the beauty is in the details. The fur is shinier, his eyes are rounder and ever-so-slightly close together, his posture is better and he's got a tiny mullet.
9. We Will Return To a Familiar Location
During a later Q&A, it was mentioned that the film will return to a location from the original film, which will look a little bit different. Scanlon was sure to emphasize that it was a location all of the Pixar guys "loved" from the original Monsters Inc. My guess is that it isn't the scare floor or Monsters Inc itself, which leaves us with only a few options. Harryhausen's Sushi Restaurant seems like the most possibly option, as college kids frequently eat out. The restaurant name is also an homage to Ray Harryhausen, and was a big favorite of Pixar employees.
10. Will We See Boo in Monsters University?
Many Pixar fans will recall that a girl in the Sunnyside Daycare in Toy Story 3 looked very much like a older version of Boo from Monsters Inc. Pixar is known to slip characters from upcoming movies into their current projects. So is Boo in MU?
When someone asked if we would see Boo in this new film, Scanlon slyly responded that if the story takes place while Sulley and Mike are in college, that would mean that Boo hasn't even been born yet. Of course, he didn't give a definitive yes or no response, which leads me to speculate that we'll see Boo in some way. Maybe the story will start and end with book ends in the future with Mike and Sulley telling Boo the story of how they became friends. Or maybe something else entirely.