'Fright Night' - What Did You Think?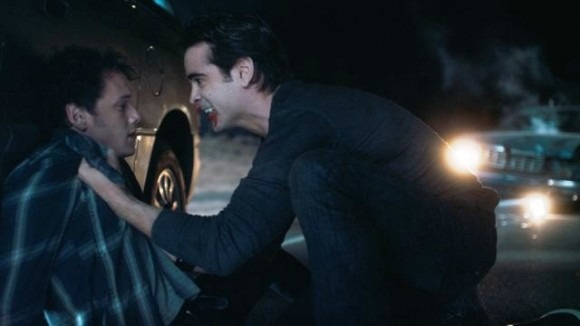 Fright Night, a remake of Tom Holland's 1985 film, hits theaters today, promising a few laughs, some solid scares, and a fantastic villainous performance by Colin Farrell, as the unthreatening-sounding Jerry the Vampire. I've been a fan of director Craig Gillespie's work (his Lars and the Real Girl was a touching story on family bonds, and I've heard great things about United States of Tara), so I was curious to see if he could pull of a genre remake successfully. Moreover, would screenwriter Marti Noxon be able to bounce back from her work on the execrable I Am Number Four?
The original Fright Night is beloved by many. So what do you guys think? Does the new film satisfy fans of the original? Does Anton Yelchin continue to prove he has what it takes to be a leading man? Is the film a successful blend of action and horror, or does it feel clunky and overstuffed? Was the 3D any good? Has anyone ever seen David Tennant and Russell Brand in the same place at once? Leave your thoughts in the comments and assume SPOILERS lie after the jump.