Watch: Thor And Captain America Fight On 'The Avengers' Set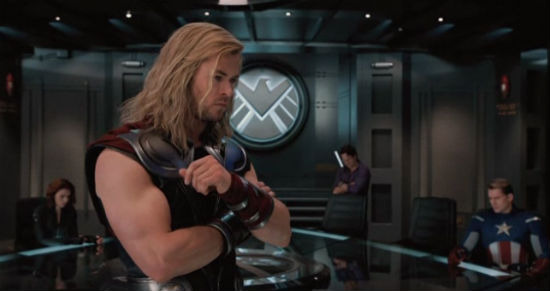 I was going to put this in today's Superhero Bits but it's simply too kick-ass to hide there. Up until now, if you've been following spoiler set photos from The Avengers, you'll know that all we've really seen is Chris Evans as Captain America. Today, however, videos of Thor (Chris Hemsworth) joining Cap on the Cleveland set came online. And, well, wow.
The videos should be considered major spoilers so, if you don't want to see, don't click below. However, if you want to really geek out today, this will do the trick.
I'm just going to do this Superhero Bits style so you can check all this stuff out. And there's much more at the below source links.
Up until now, all we'd seen is Captain America on the streets of Cleveland. Well, now Thor is in the mix on the set of The Avengers. Check out the above video to see them get ready. Thanks to NewsNet5 via CBM.
And then there's this incredible video from CBM that almost made me jump out of my seat, providing a birds-eye view of what you saw above
[No photo]
Finally, we'll leave you with that photo of Thor and Captain America kicking ass. Pure awesomeness from SplashNewsOnline (via CBM). There even more, similar photos at those links.
Was I right or was I right? Now just imagine that but with all of the heroes fighting at once? I'm not sure I have the mental capacity to take it.