'Machine Gun Preacher' Trailer: God, Or Guns, Will Save Your Soul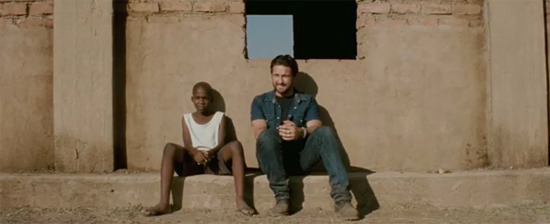 The story behind Machine Gun Preacher is inspiring: Sam Childers traded criminal activity for a life attempting to rescue children in Sudan who would otherwise be co-opted into warfare by the Lord's Resistance Army.
But the movie that dramatises Sam Childers' story — Gerard Butler stands in for Childers, with a seemingly unstable accent — looks like total by the numbers superficial claptrap. He finds Jesus! He finds a soul! He helps kids! And when the resistance army fights back, he picks up a bazooka and blows them to hell! It's like Rambo: First Blood Part II for a more sensitive, post-2000 set, courtesy of Monsters Ball director Marc Forster. Check out the trailer below.
Obviously Machine Gun Preacher might be better than this trailer makes it appear — the simple fact of condensing the story into trailer form necessarily obscures a lot of the minor beats that could make it bearable. But wow, is this particular trailer unbearable. Or so I think, anyway.
Apple has the HD version.
Machine Gun Preacher is the inspirational true story of Sam Childers, a former drug-dealing criminal who undergoes an astonishing transformation and finds an unexpected calling as the savior of hundreds of kidnapped and orphaned children. Gerard Butler (300) delivers a searing performance as Childers, the impassioned founder of the Angels of East Africa rescue organization in Golden Globe-nominated director Marc Forster's (Monster's Ball, Finding Neverland) moving story of violence and redemption. When ex-biker-gang member Sam Childers (Butler) makes the life-changing decision to go to East Africa to help repair homes destroyed by civil war, he is outraged by the unspeakable horrors faced by the region's vulnerable populace, especially the children. Ignoring the warnings of more experienced aide workers, Sam breaks ground for an orphanage where it's most needed–in the middle of territory controlled by the brutal Lord's Resistance Army (LRA), a renegade militia that forces youngsters to become soldiers before they even reach their teens. But for Sam, it is not enough to shelter the LRA's intended victims. Determined to save as many as possible, he leads armed missions deep into enemy territory to retrieve kidnapped children, restoring peace to their lives–and eventually his own. The explosive, real-life tale of a man who has rescued over a thousand orphans from starvation, disease and enslavement, Machine Gun Preacher also stars Michelle Monaghan (Due Date), Kathy Baker (Cold Mountain), Madeline Carroll (Mr. Popper's Penguins), Academy Award(R) nominated Michael Shannon (Revolutionary Road) and Souleymane Sy Savane ("Damages").