Morgan Spurlock Attached To 'Erin Brockovich-Ish' Non-Documentary Feature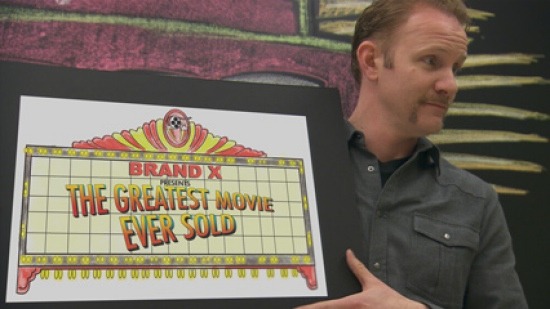 With films like Super Size Me, Where in the World is Osama Bin Laden? and Pom Wonderful Presents The Greatest Movie Ever Sold, not to mention shows like 30 Days and A Day In The Life, Morgan Spurlock has pretty much established himself as a documentary guy. Not only that, he's the documentary guy that's willing to do anything for a great story. His next film, Comic-Con: Episode IV: A Fan's Hope, continues that tradition. After that, though, it looks like Spurlock might take a hard right into features. According to a new interview, he's attached to a  "very Erin Brockovich-ish" feature with Leonardo DiCaprio's production company, Appian Way Productions. Read more after the jump.
Spurlock was being interviewed
when their reporter asked him if he would consider directing a non-documentary feature. Here's his answer:
I would love to. There's a couple movies that I'm attached to right now. It took a long time to find something that I liked. There's a film I'm attached to at Leonardo DiCaprio's company right now that's very Erin Brockovich-ish, which is great. I wanted to find something that was smart, that I thought had a little teeth to it. Wasn't just some kind of fluffy ... Like, after Super Size Me came out, I got sent so many amazingly terrible scripts. They were like, "Super Size Me is hilarious! We should send him some comedies!" So I got sent some really bad comedies. I got sent a Revenge of the Nerds remake. ... I got, like, a Deuce Bigelow movie.
He then cites Thank You For Smoking as the type of dark comedy he'd love to direct.
Erin Brockovich fits into that mold as it's the true story of a single mother who stands up against a California power company. And while most people remember the movie solely for its Oscar-winning lead performance by Julia Roberts, Steven Soderbergh directed the hell out of it, too, making a funny, sexy film that's also socially relevant.
And what about Spurlock getting offered the Revenge of the Nerds remake, huh? Pretty wild.
Do you think Spurlock's documentary style will convert into a socially conscious comedy?