Fantastic Fest 2011 Second Wave Announced; Includes 'Extraterrestrial,' 'Melancholia,' 'Innkeepers,' 'You're Next'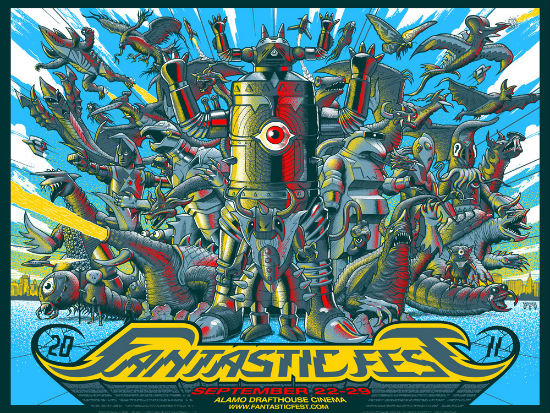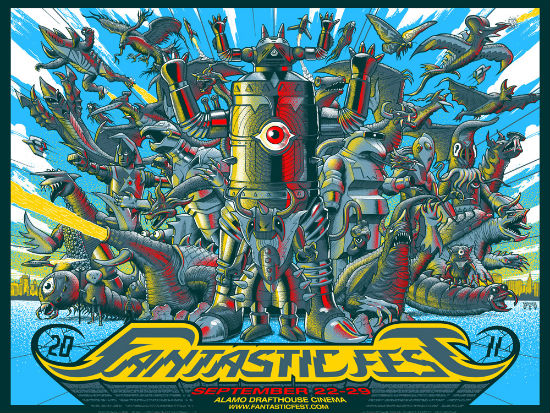 If you're a fan of genre film, you've had September 22-29 circled on your calendar for months. That's when one of the most fun, depraved and intimate film festivals in the country once again invades Austin, Texas. It's called Fantastic Fest and it features a huge blend of action, horror and sci-fi movies that most people haven't heard of at the time, but we all hear about after. This year is no different. They announced the first wave of films in July and today we've got the second wave. Most of them are new to many of us, but then there are a few that we've covered in the past: Nacho Vigalondo's Extraterrestrial, Ti West's The Innkeepers, Lars Von Trier's Melancholia and Adam Wingard's You're Next just to name a few. After the jump, read the full breakdown of the second wave of films.
Slashfilm will be on the ground at the Alamo Drafthouse during all of Fantastic Fest, giving you the skinny on the coolest and most memorable films of the festival. Will it be one of these? It's a distinct possibility.
These are the press release descriptions.
MOVIES ON FIRE: HONG KONG ACTION CLASSICS- presented by AGFA
The amazing Grady Hendrix of the famous New York Asian Film Festival will join us and introduce four surprise 35mm screenings of classic Hong Kong grindhouse gems (most not available on DVD) from Hong Kong's exploitation heyday of the late 80's and early 90's, these movies are cinematic crystal meth: cheap n'crazy, they'll spoil you for everything else. Designed to play to rowdy audiences who threatened mayhem if they weren't delivered a dose of gonzo delirium every five minutes, they have a total disregard for three-act structure, Hollywood plotting and the lives of their stuntmen. Get ready to burn!
AARDVARK (2010)Texas PremiereDirector Kitao Sakurai live in personDirector: Kitao Sakurai, Japan, 80 minutes
Larry (AARDVARK's blind-since-birth protagonist) has an innate curiosity that lands him smack in the middle of a bizarre criminal underworld replete with mixed martial arts, intrigue, murder and pillow humping.
BLIND (2011)US PremiereDirector – AHN Sang-hoon, Korea, 111minutes
A blind woman narrowly escapes from the clutches of a serial killer.  When he circles back to get rid of any witnesses, the woman must rely on her other acute senses to identify and outwit the killer.
CALIBRE 9 (2011)World PremiereDirector Jean-Christian Tassy & Producer Axel Guyot live in personDirector: Jean-ChristianTassy, France, 84 minutes
A city planner becomes strangely linked to a gun possessed by the soul of a dead hooker.
THE CORRIDOR (2010)US PremiereDirector Evan Kelly live in person!Director: Evan Kelly, Canada, 100 minutes
Five friends stay in a remote cabin for the weekend and uncover a supernatural anomaly in the woods.
EXTRATERRESTRIAL (2011)US PremiereDirector Nacho Vigalondo and Producer Nahikari Ipiña live in personDirector: Nacho Vigalando, Spain, 90 minutes
A man wakes in a strange apartment after a long night of drinking. When his unfamiliar bedmate tries to usher him out, they both discover that spaceships are hovering over Madrid.
HEADHUNTERS (2011)US PremiereDirector: Morten Tyldum, Norway, 100 Minutes
Roger Brown (Aksel Hennie) is good at two things: hiring people and stealing from them. He'll risk it all when he meets a former mercenary who owns a painting worth millions.
THE INNKEEPERS (2010)Director Ti West live in personDirector: Ti West, USA, 101 Minutes
Luke and Claire work the desk at a quaint, failing hotel. On their last night, these two amateur ghost-hunters try to capture definitive proof that their workplace is haunted. THE INNKEEPERS kicks off a Ti West retrospective at the Alamo Drafthouse sponsored by the Austin Film Society.
LET THE BULLETS FLY (2010)Regional PremiereDirector: Jiang Wen, Hong Kong, 132 minutes
The highest grossing domestic Chinese release ever, LET THE BULLETS FLY features the hilarious and bloody antics of a band of thieves traveling by train in this 1920s-set western satire.  Writer/Director Jiang Wen stars opposite screen legend Chow Yun-Fat.
MELANCHOLIA (2011)Regional PremiereDirector: Lars von Trier, Denmark, 130 minutes
The man who brought us Fantastic Fest hit ANTICHRIST creates a very different type of genre film – an incredibly personal science fiction story about the end of the world.
MICHAEL (2011)US PremiereDirector: Markus Schleinzer, 96 minutes
Setting the record for the darkest of character studies, Markus Schleinzer's compelling and surprisingly humorous directorial debut follows five months in the lives of a pedophile and the ten-year-old boy he keeps in the basement.
PASTORELA: A CHRISTMAS PLAY (2011)World PremiereDirector: Emilio Portes Castro, Mexico, 90 minutes
Fantastic Fest again hosts another untraditional Christmas movie; this time Santa Claus is out and Satan is in. When Chucho (Joaquín Cosio) loses the beloved role of Satan in the town's Christmas play and tries to reclaim the part, all hell breaks loose and an epic battle between good and evil begins.
PENUMBRA (2011)World PremiereDirector Adrian Garcia Bogliano and Producer Andrea Quiroz live in personDirector: Adrian Garcia Bogliano and Ramiro Garcia Bogliano Argentina, 85 minutes
A beautiful young woman is trapped in her apartment with a nervous realtor and an expanding cast of unsettling characters in the latest from the director of COLD SWEAT.
SLEEP TIGHT (2011)US PremiereDirector Jaume Balagueró live in personDirector: Jaume Balagueró, Spain, 102 minutes
The location is familiar (a vertical shaft Barcelona apartment building) but the story is markedly different in Jaume Balagueros (REC; REC 2) solo feature debut. Lonely doorman Cesar must do whatever is necessary to keep the neighbors from uncovering his dark, disturbing obsession for his favorite resident Clara.
SNOWMAN'S LAND (2011)US PremiereDirector: Tomasz Thomson, Germany, 95 minutes
Tomasz Thomson's SNOWMAN'S LAND is a bleak comedic thriller from Germany about an over-the-hill hit man who gets sent to the remote snow-covered wilderness to handle a job that may be his last.
THE SQUAD (2011)World PremiereDirector: Jaime Osorio, Columbia, 107 minutes
Haunted by memories of their last mission, a feuding special ops unit is tasked to uncover the mystery of what happened at a desolate military base in this tense and claustrophobic South American thriller.
SUMMERLAND (2010)North American PremiereDirector: Grímur Hákonarson, Iceland, 85 minutes
Oscar and Lara have an entirely normal family other than the fact that Oscar runs a haunted house in their basement and Lara speaks with elves.
YOU'RE NEXT (2011)US PremiereDirector Adam Wingard live in personDirector: Adam Wingard, USA, 95 minutes
From the team behind the Fantastic Fest award-winning film A HORRIBLE WAY TO DIE, YOU'RE NEXT traps a family inside secluded mansion in the middle of nowhere. Outside the home is a group of animal-masked killers who take a stab at making sure none of them leave alive.
Which of those films stand out for you? Besides the ones I've heard of, and mentioned above, Michael sounds decidedly creepy and Chow Yun-Fat in the 1920s western satire Let the Bullets Fly sounds insane too.