New 'Red Tails' Trailer And Poster Promise High-Flying, Emotional Action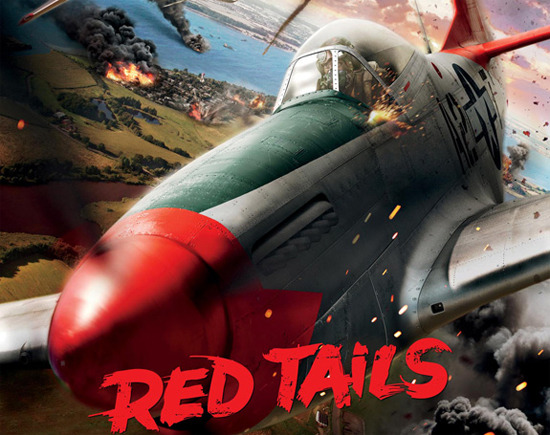 I really love the action we've seen in the first two trailers for the George Lucas-produced, Anthony Hemingway-directed WWII film Red Tails. In both the first trailer and this new one, we see some spectacular dogfighting action. It's the sort of stuff that any student of Lucas knows has been the filmmaker's major preoccupation for decades. Seeing these encounters created as direct (if exaggerated) representations of World War II, rather than filtered through the lens of Star Wars, is pretty neat.
As for the rest of the footage... well, the acting looks a bit on the uninspired side, doesn't it? I'm not sure that will even matter, because between the action and the 'against all odds' true story of the Tuskegee Airmen, Red Tails might have to really work overtime before it stalls out.
MTV has the new trailer and poster.Red Tails stars Cuba Gooding Jr., Terrence Howard, Bryan Cranston, Nate Parker, David Oyelowo, Tristan Wilds, Cliff Smith, Kevin Phillips, Rick Otto, Lee Tergesen, Andre Royo, Ne-Yo, Elijah Kelley, Marcus T. Paulk, Leslie Odom Jr., Michael B. Jordan, Jazmine Sullivan, Edwina Finley, Daniela Ruah, Stacie Davis and Gerald McRaney.
It opens on January 20, 2012.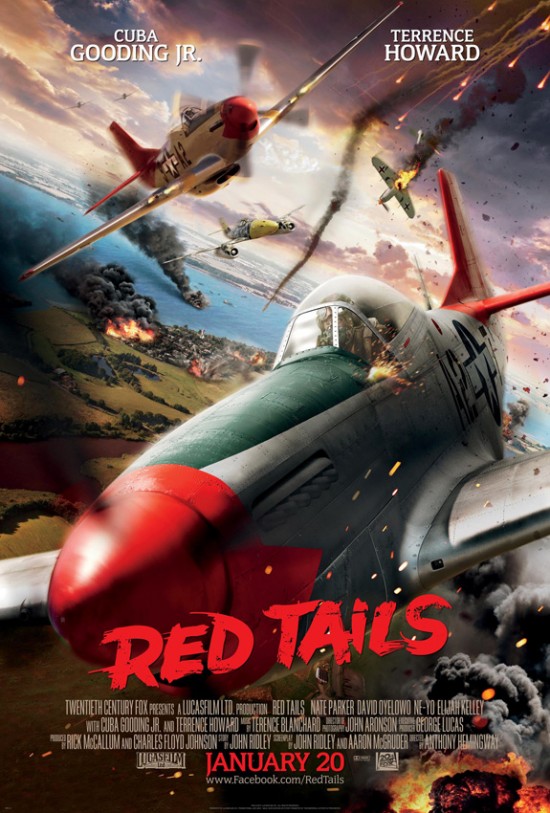 1944. World War II rages and the fate of the free world hangs in the balance. Meanwhile the black pilots of the experimental Tuskegee training program are courageously waging two wars at once — one against enemies overseas, and the other against discrimination within the military and back home. Racial prejudices have long held ace airman Martin "Easy" Julian (Nate Parker) and his black pilots back at base — leaving them with little to do but further hone their flying skills — while their white counterparts are shipped out to combat after a mere three months of training. Mistakenly deemed inferior and assigned only second-rate planes and missions, the pilots of Tuskegee have mastered the skies with ease but have not been granted the opportunity to truly spread their wings. Until now.
As the war in Europe continues to take its dire toll on Allied forces, Pentagon brass has no recourse but to reconsider these under-utilized pilots for combat duty. Just as the young Tuskegee men are on the brink of being shut down and shipped back home, Col. A.J. Bullard (Terrence Howard) awards them the ultimate chance to prove their mettle high above. Undaunted by the prospect of providing safe escort to bombers in broad daylight — a mission so dangerous that the RAF has refused it and the white fighter groups have sustained substantial losses — Easy's pilots at last join the fiery aerial fray. Against all the odds, with something to prove and everything to lose, these intrepid young airmen take to the skies in a heroic endeavor to combat the enemy — and the discrimination that has kept them down for so long.