Javier Bardem Still Attached To 'The Dark Tower' As Ron Howard Seeks New Funding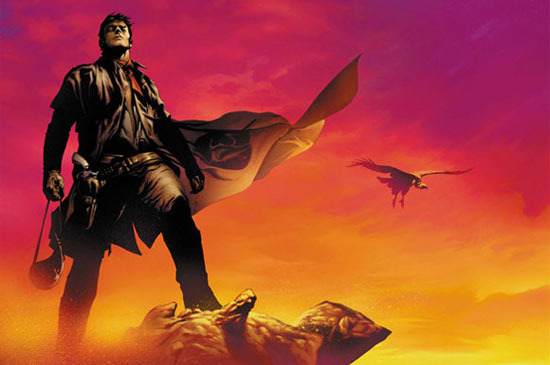 The boys at Imagine Entertainment aren't going to let Universal's brush-off get them down. Not long ago, Universal opted not to fund an adaptation of Stephen King's novel series The Dark Tower, which was planned to encompass three feature films and at least two short connective television series. Ron Howard, Brian Grazer and Akiva Goldsman make up the trio that have been trying to assemble the project, and, as intimated by King when Universal turned away, they're not giving up.
Javier Bardem remains attached to play Roland Deschain in the features. And one venue for the TV aspect of the project could end up being Netflix.
Brian Grazer told Page Six,
[We're] trying to get outside financing to make it, and distribute it through a major [studio].
Could that mean a company like Media Rights Capital, or Annapurna Pictures, the outfit headed by Megan Ellison? (Her brother, David Ellison, could also potentially be a backer, which could lead to a distribution deal with Paramount.) That's probably along the lines of what Grazer is talking about, though any specifics are just speculation on my part right now.
More interesting is that Page Six paraphrases the producer saying that "they also planned to go ahead with the TV spin-offs of the horror Western fantasies, but through other networks or even Netflix." It's that last note, about Netflix, that really strikes me as interesting. The company has been looking into producing its own television-type content, and partnering with Imagine for The Dark Tower would be quite a big move into that space. I'd like to see more direct quotes from Grazer on that topic, though, before getting too excited.
I'm still not convinced that this is the right creative team for The Dark Tower — not at all, really — but I am still fascinated by the scope of their plan for the story. Not being particularly invested in The Dark Tower, I'd almost like to see this get made, just to see if they can pull it off. But with Ron Howard directing the Formula One film Rush soon, this won't be happening until next summer at the earliest.