Cool Stuff: Alex Pardee's Edgar Wright Triple Feature Poster
Sometimes there are posters so cool, people get mad when we post them. Posting them alerts more people to their awesomeness and, hypothetically, gives everyone less of a chance to buy one themselves. To those people, I apologize in advance.
Alex Pardee, whose work you might be familiar with from Sucker Punch or a new Attack the Block piece, has designed a "literally mind-blowing" poster for an upcoming Edgar Wright triple feature at the Castro Theater in San Francisco: Shaun of the Dead, Hot Fuzz and Scott Pilgrim vs. The World. After the jump we'll show you the full image and tell you where you can buy tickets to attend the event and pick up one of these beauties.Edgar Wright alerted us to the event by blogging about it. So it's his fault if you aren't able to get this gorgeous poster.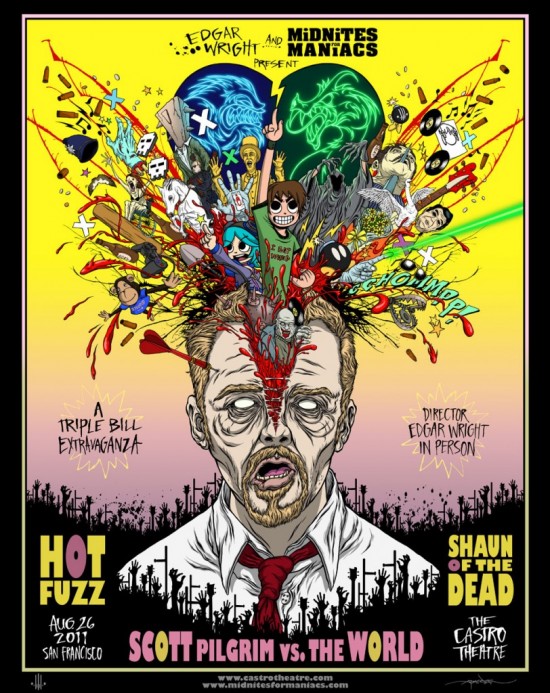 It'll first be available at 7 p.m. August 26 at the Castro Theater in San Fransisco, CA. Wright will be on hand for the screenings as well, discussing Shaun, Fuzz and Scott. Tickets are available here. If any of the posters are available after the event, they'll go on sale at Zerofriends. No word on how big the poster is, the edition size or printing process, but that kind of stuff is only important to crazy people like me.
DKNG did a really gorgeous poster for a similar event at the New Beverly in Los Angeles earlier this year but I think Pardee has outdone even that awesome piece of work. I mean look at the detail. Of course there are the things coming out of Shaun's head but look at the guitars, night sticks and zombie hands rising out of the black like a crazy, Edgar Wright forest. This is just a gorgeous representation of these great films.
What do you think?