TV Bits: 'Munsters' Remake In Development; 'Warehouse 13?, 'In Plain Sight', 'Suits', And 'Leverage' Renewed; 'Dexter' Season 6 Poster Revealed; Kurt Sutter Talks AMC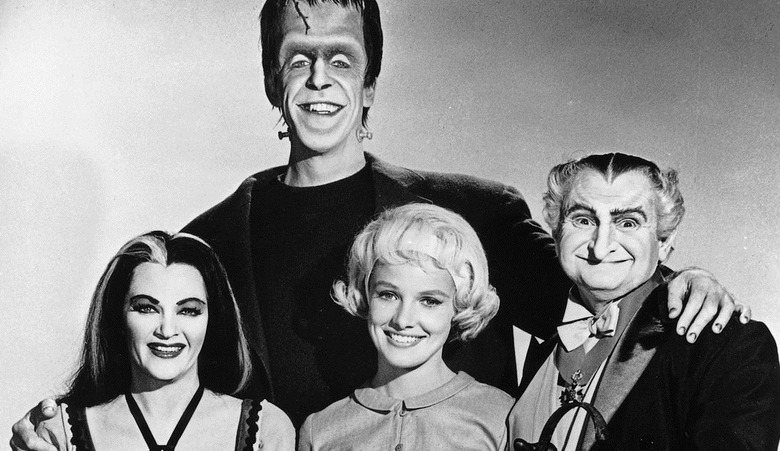 We've got lots of odds and ends for you in today's TV bits, including renewals, a remake, and a rant by notoriously rant-y Sons of Anarchy creator Kurt Sutter. After the jump, read about:
NBC's remake of The Munsters
The new poster for Season 6 of Dexter
Kurt Sutter's thoughts on the AMC debacle
Renewals for USA, TNT, and SyFy shows
There's no word on whether del Toro might return as well (given his very busy schedule, I'd guess not), but either way, I'm pretty curious to see what Fuller will come up with. Fuller has a knack for working with offbeat, slightly morbid premises, as he's proven with Dead Like Me, Pushing Daisies, and Wonderfalls. A series about a monstrous but ultimately lovable family seems like a perfect fit for him.
The Munsters makes two '60s sitcom remakes we've heard about in the past week; a few days ago, we also wrote about CBS' possible reimagining of Bewitched. Can another I Dream of Jeannie be far behind? [Digital Spy]
Showtime has unveiled a brand-new poster for the sixth season of Dexter, which will premiere Sunday, October 2. As with most of the previous marketing materials, the new image plays up the church angle. This time, Dexter is an "avenging angel" with wings of blood.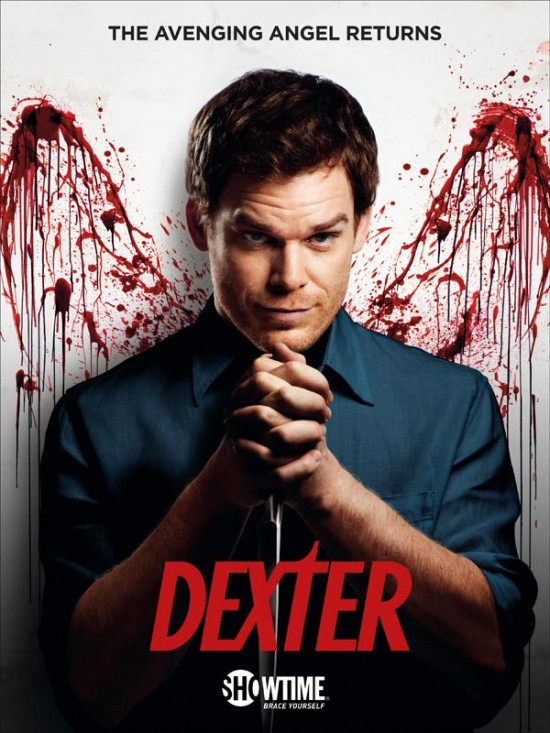 The new season will see Dexter consider the role religion might play in his child's life, while he faces off against a villainous religion professor and his acolyte (Edward James Olmos and Colin Hanks). [TV Line]
Notoriously outspoken Sons of Anarchy creator Kurt Sutter has apparently been watching the AMC drama along with the rest of us, and has taken to Twitter to express his thoughts on what's behind former showrunner Frank Darabont's firing from AMC's The Walking Dead. Sadly, he's since deleted his Twitter account, but Perez Hilton managed to get the quotes down before they went away:
why darabont got fired – weiner. he held AMC hostage, broke their bank, budgets were slashed, sh*t rolled down hill onto gilligan and frank. no one else wants to f*cking say it, but the greed of mad men is killing the other two best shows on tv — breaking bad and walking dead.
Sutter's theory isn't a new one, despite his assertion that "no one else wants to f*cking say it." We've already reported on rumors that suggest Mad Men's sky-high expenses may have led to overall budget troubles at AMC. Whether those rumors have any more weight now that you've heard them from Sutter, you can decide for yourself.
While network execs are developing brand-new projects and fighting with their showrunners, they're also reconsidering current series. A slew of renewals were recently announced from SyFy, USA, and TNT. Let's go down the line, shall we?
SyFy has ordered a fourth season for Warehouse 13, which will consist of thirteen episodes to begin airing in 2012. Less fortunate was SyFy's Eureka, which was cancelled last week.
Over at USA, legal dramedy Suits has won a 16-episode second season, while the network announced that the upcoming fifth season for Witness Protection Program drama In Plain Sight would be the show's last. In Plain Sight's fourth season ended earlier this month.
Finally, TNT has renewed its caper series Leverage for a fifth season with a 15-episode order. It was previously announced that TNT would also be renewing Rizzoli & Isles, Falling Skies, and Franklin & Bash; the critically acclaimed but underwatched Men of a Certain Age has been cancelled. [Collider, Deadline]