Script Left At Beverly Hills Talent Agency Blown Up By Police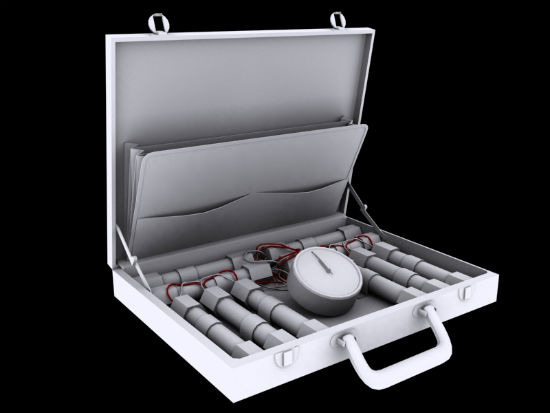 A new screenplay blew up in Los Angeles Thursday. Literally. In an almost absurdest twist of events, a Los Angeles bomb squad blew up a briefcase that an aspiring screenwriter left at a Beverly Hills Talent Agency in the hopes someone would read the script inside. The man left the case in the lobby, a security guard moved it out back, and the unmanned case was then reported to police. All of the adjoining office buildings were evacuated and the bomb squad destroyed the case. Inside was a laptop computer and the script in question. Read more after the jump.
In a Los Angeles Times recount of the events, they say that the man – who was not mentioned by name – had been "harassing the agency in an effort to get the script read" and some people "were concerned about "irrational comments" concerning the agency."
Officers detained the man at the scene before releasing him.
Getting noticed in Hollywood isn't easy. You could have the best script in the world but the steps to get it traditionally made are more difficult than writing it in the first place. You need representation, then those people need to submit it to an agency. After that, maybe it gets farmed out to production companies and, if you're lucky, one of them will buy it. Next, if it's sold, you have to wade through all your competition to get producers who are willing to back it. Finally, if you've already jumped through all those hoops, when a few others are attached and it all looks good, you might actually get a movie made. As one screenwriter friend told me, "Everyone has to say 'Yes.' One 'No' and you're done."
Thankfully in today's world there are other ways to get a movie made – ideally, making it yourself. But if you choose to go the traditional way, the best thing you can have is something that makes you stand out. Now this guy does. He's the bomb guy. I'd be willing to bet, because of this incident, someone is going to read – and buy – this guy's script. They may even write a script about him. Now wouldn't that be something?
Thanks to Now In 3D on Deviant Art for the image.