'Star Wars: The Complete Saga' Blu-Ray Trailer Plus 'Phantom Menace 3D' Update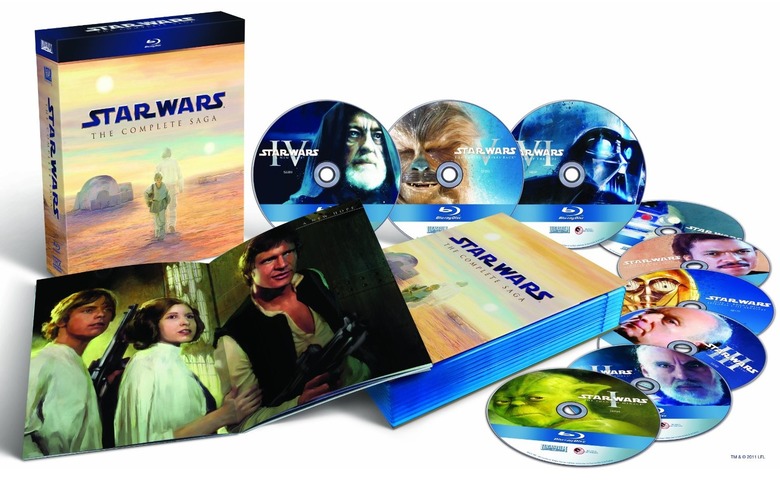 Not that it ever really went away, but we're about to get another big dose of Star Wars. Star Wars: The Complete Saga is coming to Blu-ray on September 16 and the marketing blitz will soon begin and continue right through the holidays. Then, once that's over, the first (and maybe final) Star Wars 3D film will be ready to hit theaters when Star Wars Episode I: The Phantom Menace is released in 3D on February 10. Today brings news on both of those fronts. Yahoo has released a new trailer for the Blu-ray set and Bleeding Cool has the latest on the 3D conversion. Watch and read the updates after the jump.
First up, thanks to Yahoo Movies for the new trailer. Maybe I'm just a huge Star Wars mark (scratch that, "definitely) so this gave me goosebumps. Yes, even the podracing. But do notice how the original films are much more prominent here.
As a fan, that's pretty exciting, but where does the LucasFilm archive end? Will there always be never before seen footage? At what point will everything be seen?
On to Star Wars Episode I: The Phantom Menace 3D, Bleeding Cool spoke to Matt Bristowe, Head of Production at Prime Focus, who is overseeing the conversion, and go the confirmation that all work has been completed and signed off on by George Lucas himself.
Stretching that statement a bit, it doesn't seem far off that the film could screen at any number of end of the year festivals: Toronto, AFI, Telluride, Fantastic Fest, etc. It's a stretch, but if Lucasfilm is confident about their product and wanted to get fans excited, it would be a smart move.
Let the debate once again begin! Are you going to see The Phantom Menace in 3D when it comes out, purchase the Complete Saga on Blu-ray or just stick to the Original Trilogy, which isn't original at all?