First Official Look: Leonardo DiCaprio In 'J. Edgar'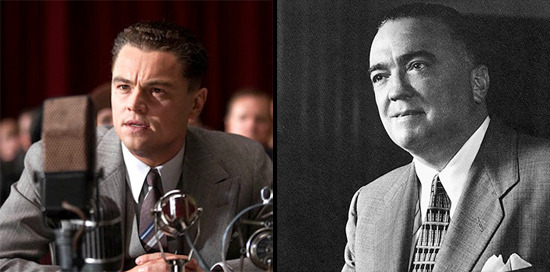 Here's your first studio-approved still from Clint Eastwood's latest prestige picture, J. Edgar. The shot is doesn't replicate any one classic shot of the long-time FBI director J. Edgar Hoover, but does capture his general image from the '50s. Leonardo DiCaprio still doesn't look a whole lot like Hoover, whose rounded, potato-spud face has exactly the deficit of appeal that DiCaprio's does not. (The guy in the middle background on the right side looks more like the real thing.) But I don't think any of us really want to stare at Hoover's pug mug for two hours; I'm willing to live with the Hollywood version, at least.
See the full image below.
Clicking the pic will enlarge slightly, and perhaps report any commie leanings you might have to the FBI: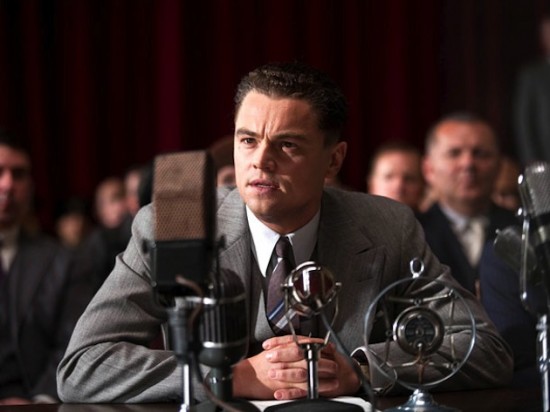 EW has the shot, and says J. Edgar "traces Hoover's life from his childhood in Washington, D.C., through his ascent to power in the 1920s, his 50-year reign over the FBI, and his death in 1972 — with Leonardo DiCaprio donning prosthetic makeup to portray the man well into his bulldog-like elderly years."
Breaking from their pattern, Warner Bros. and Clint Eastwood will skip the fall festival circuit (no Venice, TIFF, or NYFF) and simply open J. Edgar on November 9 in limited release and take the film into more theaters two days later on November 11.
In addition to Mr. DiCaprio as the first and defining director of the FBI, we've got Naomi Watts as as Helen Gandy, the longtime secretary to Hoover; Ed Westwick as Agent Smith, a clean-cut operative hired by Hoover to write his biography; Josh Lucas is famed aviator Charles Lindbergh; Damon Herriman is Bruno Hauptmann, accused of kidnapping Lindbergh's 20-month baby in 1932. whose trial was a big point in Hoover's early career and, presumably in the film as well;  and Ken Howard is U.S. attorney General Harlan F. Stone. And Armie Hammer is playing Clyde Tolson, who was not only Hoover's second-in-command and frequent vacation companion, but reportedly his lover.