Justin Lin Has Met With Arnold Schwarzenegger And James Cameron For New 'Terminator' Film, Shooting 'Fast Five' Sequel Next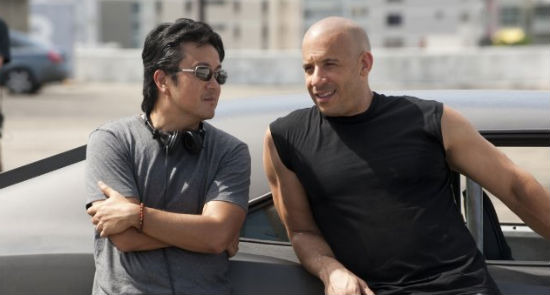 Sometimes when you watch a filmmaker's first movie you know exactly what he's going to be. That's not the case for Justin Lin. His first film, the fantastic Better Luck Tomorrow, gave almost no indication of just how incredibly massive a director he'd eventually become. After back to back box office smash hits with Fast and Furious and Fast Five, Lin has been given the keys to the kingdom. We know he is planning on doing Fast and Furious 6, is attached to do a new Terminator movie with Arnold Schwarzenegger, a Highlander reboot and and was even on the list to possibly direct Die Hard 5 and The Wolverine.
Lin spoke to The Playlist and gave updates on most of those projects. He's turned down Die Hard 5, will direct Fast and Furious 6 next (which already has a May 24, 2013 release date) and just had a very productive Terminator 5 meeting with Schwarzenegger and James Cameron. Read Lin's quotes on all of this after the break.
Thanks to The Playlist for these quotes. Here's what Lin had to say about his Terminator meeting:
'Terminator' is something I've been having a lot of fun with. Just even this week, I had a great meeting with Arnold and James Cameron, just sitting down unofficially. And James is so gracious because he's not part of the project, he's not going to be producing, but it was great of him just as a filmmaker to take time out to just talk.
He also added this:
Again, if I'm going to be kind of the gatekeeper to it, I want to make sure that I can hopefully build it up the right way – and so far that's been the most fun. Just to be able to take James Cameron's brain and for him to be so open even though he has no stakes in it, just as a human being, that's something that I will always remember as a part of my journey as a filmmaker.
And Lin said the following on his decision to not direct Die Hard 5:
For many of the projects, I feel very privileged, but I just know it wasn't the right situation. And the first 'Die Hard' changed me as a kid when I watched it. But 'Die Hard 5' is just not something that I'm going to do, or I'm interested in.
If you head over to The Playlist's story, Lin has even more to say about how his career has opened up, the opportunities the Fast and Furious films have given him and why he's had to turn down a lot of things. It seems like he really has things in order.