Superhero Bits: Spider-Man, The Dark Knight Rises, The Avengers, Man Of Steel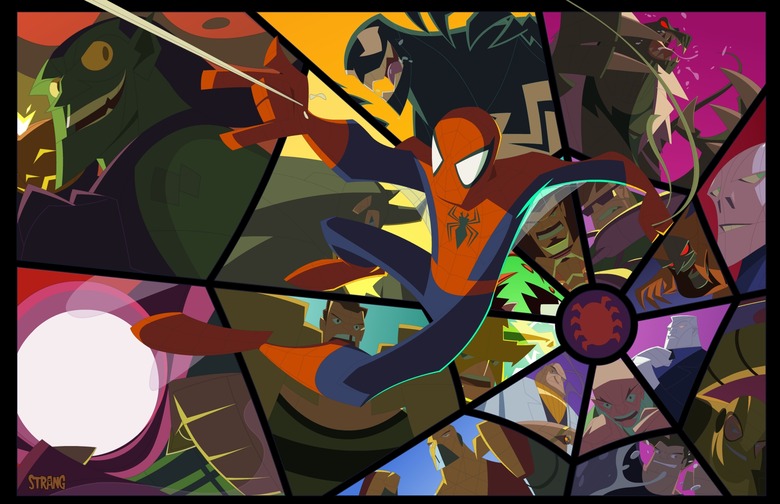 What security measures are being taken on the set of The Dark Knight Rises? Did those security measures stop someone from catching Joseph Gordon-Levitt walking along side the Tumbler? Want to know how the bank from the first image from Man of Steel fits into the film? And how popular is Spider-Man at metal shows? Read about all of this and more in today's Superhero Bits.
More and more footage from the set of The Dark Knight Rises is revealed. This video has your first moving look at Joseph Gordon-Levitt's character (though we've seen images) and also reveals a Tumbler and you can even see Christopher Nolan. What's Gordon-Levitt doing with that gas can? Is he working with Batman? I kind of don't want to know. Thanks to Comic Book Movie.
Speaking of The Dark Knight Rises spoilers, Moviefone has done a very interesting interview with Jared Wickerham, a 22-year-old Pittsburgh photographer who is responsible for many of the most revealing photos that have come off set. In the interview he talks about how much money he makes, what it's like on set, how long he's on set, as well as the security measures they're taking. Here's a snippet:
Another P.A. who was about my age — I'm 22 — and he just came up to me and said, "I hate to do this, but I've got to stand in front of you. It has come down from my boss that I have to stand in front of you." I ran into the location manager — I think his name was James — and he also came up to me and said, "I need you to stop taking pictures." I said, "Well, I'm on the sidewalk, I'm in a public area, I know my rights." That's pretty much what I told everybody, "I know I'm within my rights." As soon as I say that, they're like, "Yeah, you are."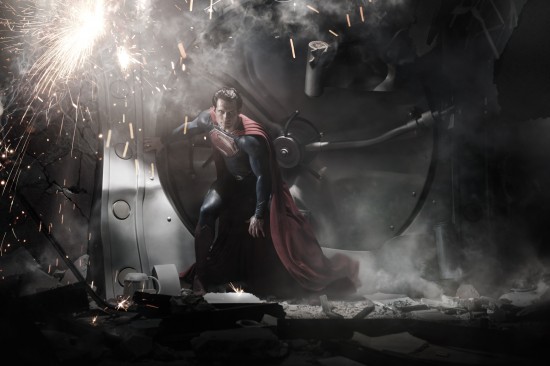 The Man of Steel Facebook page (via Comic Book Movie) has gotten a report in from a "100% reliable" source about some major scenes being filmed for Zack Snyder's Superman film. They involve a 7-11, a bank, a hospital and more. If correct, these are pretty major spoilers so head to the above link to read more but we'll tease with just this – it explains the official image that was released (and you see again above).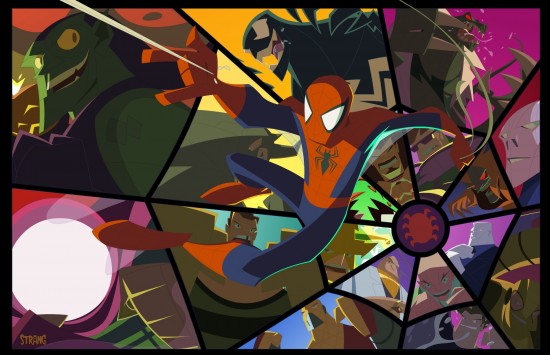 Geek Tyrant (via Deviant Art) has found this awesome image called "Tough Crowd" by an artist named VonToten. Obviously, it's Spider-Man surrounded by a web of his most famous enemies: Venon, Green Goblin, Lizard, Mysterio and others. Makes a great desktop wallpaper.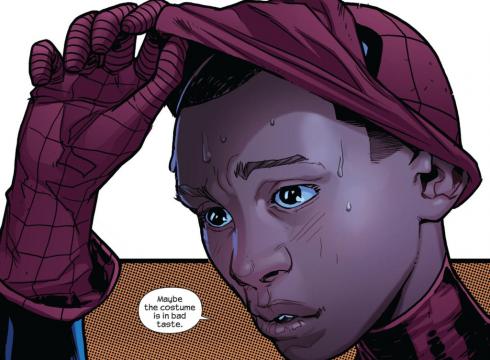 NPR has an article and audio story called "Hollywood Superheroes Losing the Fight for Diversity." It poses the questions why, if Marvel is willing to make a non-white Spider-Man, why we haven't seen any other major minority superheroes yet?
Due to the amount of graphics and images included in Superhero Bits, we have to split this post over TWO pages. Click the link above to continue to the second page of Superhero Bits.
The same YouTube user as above, SubaruWRXFan (via CBM) has another video of the snow covered set of The Dark Knight Rises. What's that big black vehicle for?
Kevin Feige was speaking to Empire Magainze (via CBM) about The Avengers and it's funny how coy he is about the villains in The Avengers. Hey Kev, we already know (but if you don't, I won't spoil it here). Here's his quote:
I've never been shy of saying that there needs to be a big threat, and it is a very, very big event that requires all of The Avengers. It's big. IT IS BIG.
[No photo]
We ran a link to Avengers set photos in Cleveland yesterday which is why I'm only running this one image sent in from /Film reader Brian T. He sent in a bunch of images from the mass-destruction on the street set we talked about yesterday including these new phone booths. Thank you Brian.
Disclaimer: I think we've run this before but I write about so many superhero bits that, if we did, I apologize. If not, this is a really great video of Spider-Man teaching some kids his patented moves. Thanks to The Awesomer.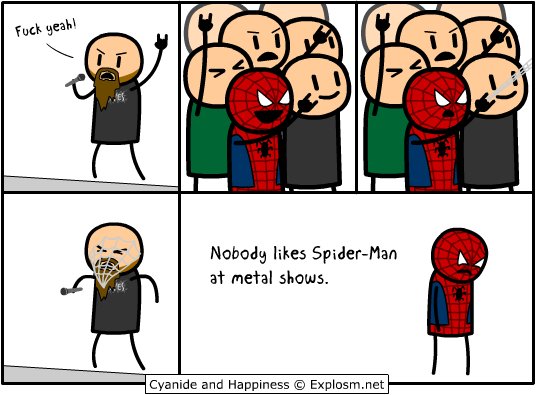 This made me laugh. A great cartoon by Cyanide and Happiness over at Explosm.net. Pretty self-explanatory.