Joe Carnahan's 'The Grey' Opens January 27, 2012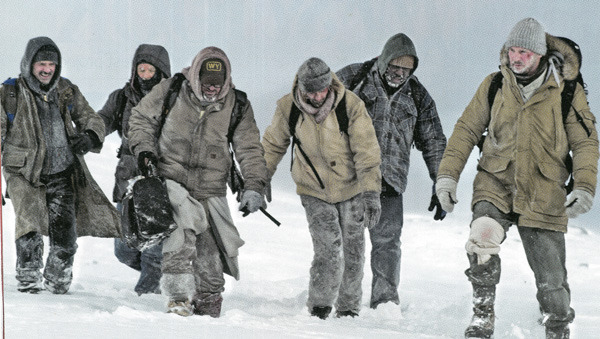 A group of oil-rig workers crash and find themselves stranded on the Alaskan tundra in the presence of a group of deadly wolves. That's the plot of Joe Carnahan's The Grey starring Liam Neeson, James Badge Dale and Dermot Mulroney, among others, and it's just been announced that we'll get a chance to check it out on January 27, 2012. A January release date generally puts a film out of 2011 Oscar contention but, rumor has it, Open Road Films could do an Oscar qualifying run based solely on the strength of Neeson's performance. Read the full press release after the jump.
Variety broke the news of the release date but Deadline added the following:
I'm told that Open Road has left open the possibility that the film could get a qualifying run in two theaters before year's end so that he would qualify for the Best Actor category. I must say I am a bit surprised that the qualifying run isn't an automatic. Buyers who watched the movie and bid on it in July before Open Road won it–paying near $8 million  and a $25 million P&A commitment for U.S. rights–all hailed Neeson's performance as Oscar bait.
We'll have to wait and see. For most of us though, we'll visit The Grey on January 27. Here's the official press release:
Open Road Films will release the highly anticipated, action-packed survival thriller, The Grey, in theaters nationwide on January 27, 2012. The Grey stars Liam Neeson and is directed by Joe Carnahan (A-Team, Smokin' Aces, Narc); it was produced by Liddell Entertainment. The announcement was made today by Tom Ortenberg, CEO of Open Road Films.
In The Grey, Liam Neeson leads an unruly group of oil-rig roughnecks when their plane crashes into the remote Alaskan wilderness. Battling mortal injuries and merciless weather, the survivors have only a few days to escape the icy elements – and a vicious pack of rogue wolves on the hunt – before their time runs out.
The Grey also features Frank Grillo (upcoming Warrior and Lay The Favorite), Dermot Mulroney (Burn After Reading, About Schmidt), Dallas Roberts ("The Good Wife," 3:10 To Yuma), Joe Anderson (Across The Universe, upcoming ABC series "The River"), James Badge Dale (upcoming World War Z, The Conspirator, HBO's "The Pacific"?), Nonso Anozie (upcoming Conan The Barbarian, Atonement, RocknRolla).
The Grey is produced by Jules Daly, Joe Carnahan, Ridley Scott and Mickey Liddell. Executive producers are Tony Scott and Jennifer Hilton as well as Jim Seibel, Bill Johnson and Marc Butan of Inferno Entertainment.