First Look: Tom Hanks And Thomas Horn In 'Extremely Loud & Incredibly Close'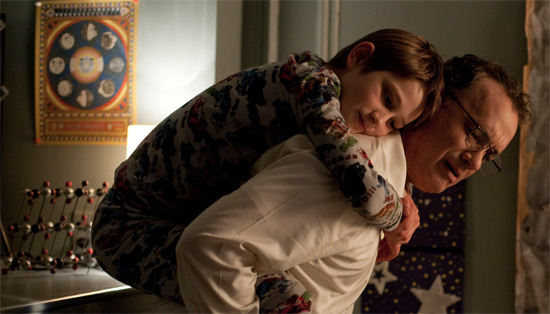 Warner Bros. evidently has high hopes for Stephen Daldry's adaptation of the Jonathan Safran Foer novel Extremely Loud & Incredibly Close, as the studio recently set the film for a December 25 debut. Indeed, the novel, which is a quirky but heartfelt account of a young boy's attempt to uncover some family history in the wake of 9/11, could easily be the basis for a moving holiday film.
I'm anxious to see a trailer, in part because the key role in the film — the boy Oskar — went to a non-actor: young Jeopardy! winner Thomas Horn. The potential that this film will reveal a new young talent seems high, much as True Grit did last year with Hailee Steinfeld. While we wait for that trailer, check out the first official image from the film, which shows Horn with Tom Hanks, as Oskar's father.
Also in the cast are Sandra Bullock, James Gandolfini, Zoe Caldwell, Viola Davis, Jeffrey Wright, and Max von Sydow.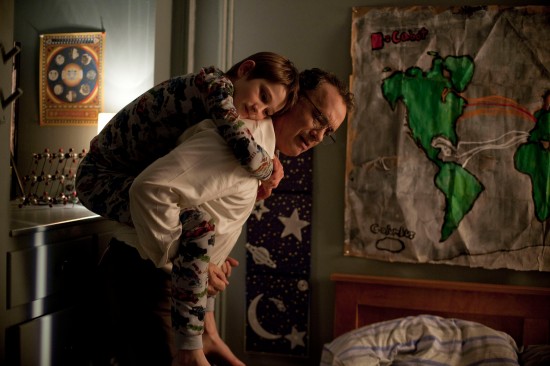 Oskar (Thomas Horn) is convinced that his father (Tom Hanks), who died in the 9/11 attacks on the World Trade Center, has left a final message for him hidden somewhere in the city. Feeling disconnected from his grieving mother (Sandra Bullock) and driven by a relentlessly active mind that refuses to believe in things that can't be observed, Oskar begins searching New York City for the lock that fits a mysterious key he found in his father's closet. His journey through the five boroughs takes him beyond his own loss to a greater understanding of the observable world around him.
Extremely Loud & Incredibly Close opens limited for an Oscar-qualifying run on December 25th, 2011 and will expand on January 20th.