First Look: 'A Very Harold & Kumar 3D Christmas'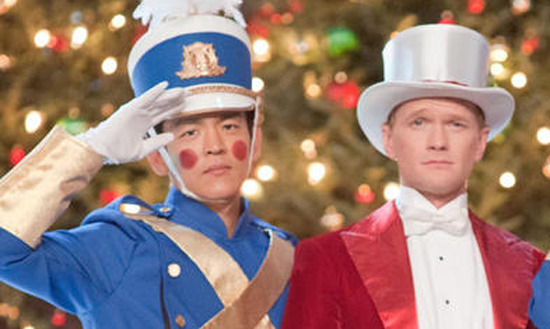 It's been three years in real time since we last caught up with stoner buds Harold & Kumar (in 2008's Harold & Kumar Escape From Guantanamo Bay) but it's been six years of time within the movies since the two friends played by Kal Penn and John Cho last spent time together. Their third film, and their first in 3D (and first outright holiday movie) sees the pair reunited and, judging by the looks on their faces, back in trouble.
The first full official image of the pair and persistent scene-stealer Neil Patrick Harris is after the break.
A lower-quality version of this image has been floating around for a couple weeks (scanned by The Playlist from EW) but here's the official digital version via Yahoo. Click to enlarge slightly.

After years of growing apart, Harold Lee and Kumar Patel have replaced each other with new friends and are preparing for their respective Yuletide celebrations. But when a mysterious package mistakenly arrives at Kumar's door on Christmas Eve, his attempt to redirect it to Harold's house ends with the "high grade" contents — and Harold's father-in-law's prize Christmas tree — going up in smoke. With his in-laws out of the house for the day, Harold decides to cover his tracks, rather than come clean. Reluctantly embarking on another ill-advised journey with Kumar through New York City, their search for the perfect replacement tree takes them through party heaven — and almost blows Christmas Eve sky high.
A Very Harold & Kumar 3D Christmas stars John Cho, Kal Penn, Paula Garces, Eddie Kaye Thomas, David Krumholtz, Danneel Harris, Amir Blumenfeld, David Burtka, Fred Melamed, Patton Oswalt, Richard Riehle, Danny Trejo, Neil Patrick Harris, Bobby Lee, and Thomas Lennon.
H&K creators Jon Hurwitz and Hayden Schlossberg wrote, but this time directing duties went to Todd Strauss-Schulson. The film hits on November 4.