Edward James Olmos And Colin Hanks Do Creepy In 'Dexter' Season 6 Behind-The-Scenes Video And Gallery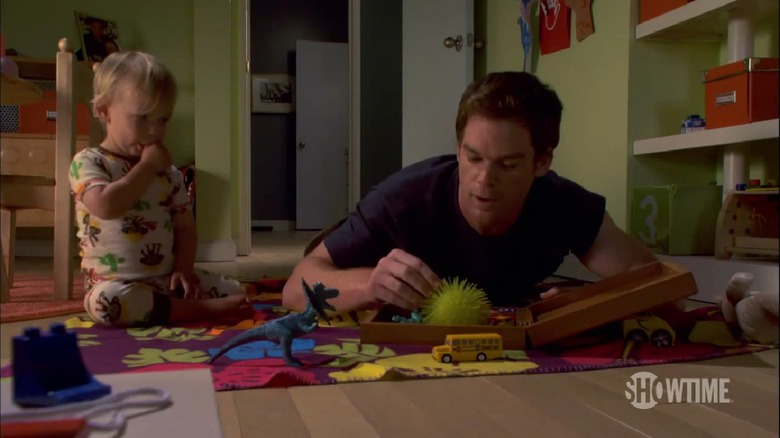 Thanks to an continuous stream of teasers, trailers, and casting updates, we already have some idea of what we can look forward to from the new season of Dexter. Now, a new behind-the-scenes video spills still more details on the upcoming season, which will hit Showtime this fall.
The previous promos have all pushed the religion angle pretty hard, and the new one finally provides some context for Dexter's (Michael C. Hall) sudden interest in the topic. Additionally, we get a really good look at Edward James Olmos and Colin Hanks, two of the more exciting recent additions cast. Check out the video, plus a gallery of Season 6 stills, after the jump. (Be forewarned that major spoilers for Seasons 1-5 follow, as well as some more minor reveals about Season 6.)
Amid all the usual generic promises about the upcoming episodes — this season will have a "grander scale," we're going to "do things we've never done before," etc. — are some revealing tidbits about some of the plot points we'll be seeing when the series returns this fall:
The new season will see Dexter "move forward into a place where the death of Rita and the absence of Lumen [are] no longer hanging over him," giving him a greater sense of control.
Dexter's newfound interest in religion comes from his desire to give his son a good childhood and the chance to grow into a normal person.
Hanks' character Travis, previously described as "brilliant expert on ancient artifacts who somehow becomes linked to a series of grisly murders in Miami," will be a "bad guy" who "believes that he's doing the right thing."
Travis will have a "very mysterious and dangerous" relationship with his creepy religion professor, played by Edward James Olmos.
The season will open with the discovery of a corpse for which the cause of death is unclear — "and it just gets weirder from there."
[Images and video via Geek Tyrant]
Season 6 synopsis:
This season, Dexter goes from happily married husband to guilt-ridden single dad. How will it affect his ability to maintain an average-guy facade while satisfying his need to kill? Dexter Morgan spent Season 5 atoning for the death of his wife Rita. He committed to being a part of her children's lives, and entered into a deep, passionate relationship with Lumen, unlike anything he'd ever had before. But Dexter's need to kill overpowers his desire for human connection. And now that one person knows the truth about him, and a few others are close, how much longer will America's favorite serial killer be able to keep his dark side a secret?
The season premiere of Dexter will air on Showtime Sunday, October 2 at 9 PM.