Sundance Hit 'Being Elmo' Will Hit Theaters In October 2011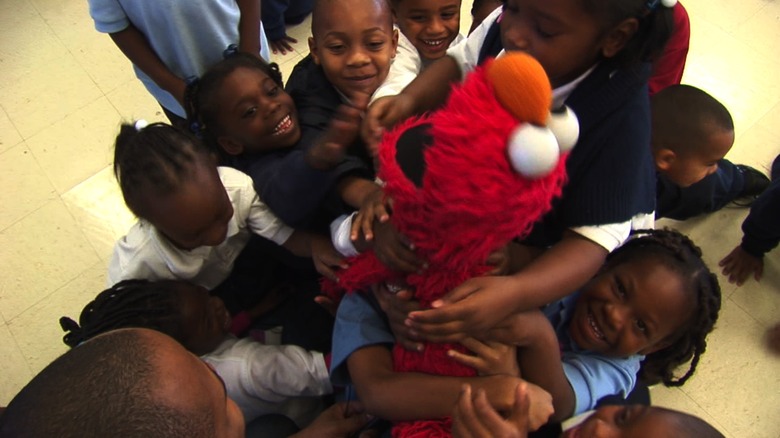 Coming out of this year's Sundance Film Festival, one of the stories people seemed most eager to tell was how they cried their little hearts out after seeing Being Elmo: A Puppeteer's Journey. The documentary, directed by Constance Marks, is about Kevin Clash, the man behind the famous Sesame Street character Elmo. It simultaneously tells the tale of how he was able to turn his unique dream – to be a puppeteer – into reality while also chronicling the rise of Jim Henson and the Muppets. It was Peter's favorite film at Sundance this year and now it's finally being released.
Being Elmo will open in New York on October 21 and then begin expanding on November 4. After the jump, see what date it's coming to your city and watch a video blog reaction to the film.
Here's a video blog that Peter and David recorded after seeing Being Elmo at Sundance:
And you can click here to read an interview David did with the film's creators.
Finally, here's the full press release including the first wave of dates for Being Elmo.
Fresh off its double award winning festival screenings at the recent Michael Moore Traverse City Film Festival, the documentary feature BEING ELMO is gearing up for its upcoming theatrical run this fall beginning on October 21 in New York City. Winning the Audience Award and a Special Jury Award for Most Life – Affirming Documentary at the Traverse City Film Festival, the Constance Marks directed film continues to collect fans and accolades, and soon everyone will be able to experience the film. The film recently won the Audience Award at the Nantucket Film Festival, as well.
BEING ELMO chronicles the life story of puppeteer Kevin Clash – the multiple award-winning persona behind the furry red monster Elmo of television's Sesame Street. As a teenager growing up in Baltimore in the 1970s, Kevin had very different aspirations from his classmates—he wanted to be a puppeteer. More specifically, he wanted to be part of Jim Henson's team, the creative force responsible for delivering the magic of Sesame Street on a daily basis. With a supportive family behind him, Kevin made his dreams come true.
Combining amazing archival footage with material from the present day, filmmaker Constance Marks explores Kevin's story in vivid detail and chronicles the meteoric rise of Jim Henson in the process. Narrated by Whoopi Goldberg and including interviews with Frank Oz, Rosie O'Donnell, Cheryl Henson, Joan Ganz Cooney and others, this insightful and personal documentary offers up a rare, behind-the-scenes look at Sesame Street and the Jim Henson legacy.
BEING ELMO will be distributed through Submarine Deluxe as follows:
October 21 New York, NY IFC CENTER
November 4 Los Angeles, CA Laemmle Theaters
November 4 Seattle, WA Landmark Varsity
November 4 Larkspur, CA Lark Thetater
November 11 San Francisco, CA The Roxie
November 11 Baltimore, MD Charles Theater
November 11 Maitlin, FL Enzian Theatre
November 11 Washington DC Landmark E Street Cinema
November 16 Boston, MA Brattle Theatre
Novmeber 18 Boston, MA Coolidge Corner Theater
November 18 West Newton, MA West Newton, MA
November 18 Philadelphia, PA International House of Film
November 18 Atlanta, GA Landmark Midtown Art
November 18 Minneapolis, MN Landmark Lagoon or Edina
November 18 Santa Fe, NM CCA Santa Fe
November 25 Tucson, AZ The Loft Cinema
November 25 Portland, OR Living Room Theaters
November 25 Coral Gables, FL Living Room Theaters
November 25 Hartford, CT Real Art Ways
November 25 Ann Arbor, MI Michigan Theater
November 25 Hudson, NY Time and Space Limited
December 2 St. Louis, MO Landmark Tivoli or Plaza Frontenac
December 27 Houston, TX MFA Houston
More dates and cities will be added shortly.
Winner of numerous film festival awards including a Special Jury Prize at the 2011 Sundance Film Festival, BEING ELMO is directed by Constance Marks and produced by Constance Marks, Corinne LaPook and James Miller. The film is co-directed by Philip Shane and written and edited by Philip Shane and Justin Weinstein with music composed by Joel Goodman. James Miller is the film's cinematographer
For more info on Being Elmo visit their official site: www.BeingElmo.com