Sequel Bits: Rupert Wyatt On 'Rise Of The Planet Of The Apes' Sequel; Plus Updates On '24,' 'Star Trek 2,' Trek Animated Series And 'G.I. Joe 2'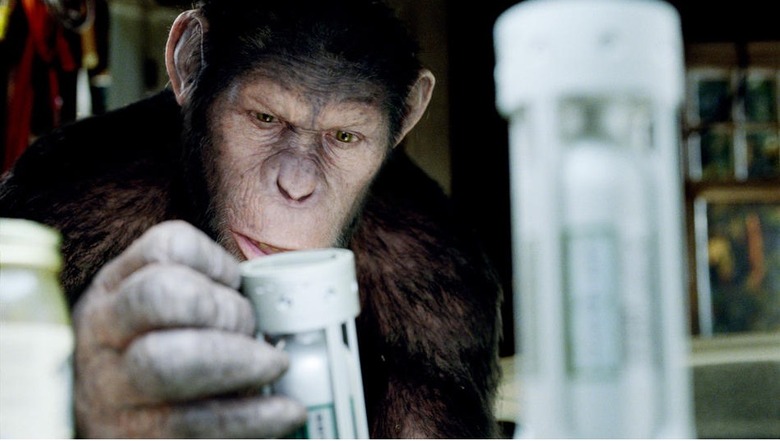 There's a lot of minor news floating around today about possible sequels, so let's run it all down. After the break, you'll find:
Comments from Rise of the Planet of the Apes director Rupert Wyatt about a possible sequel to the Planet of the Apes prequel,
The latest skinny on the 24 spin-off movie,
Comments from J.J. Abrams about Star Trek 2,
The latest Star Trek animated series talk,
Confirmation that Ray Park will indeed return for G.I. Joe 2,
and word on the shoot for Resident Evil: Retribution.
First up, Rupert Wyatt told Bleeding Cool about ideas he has for a possible movie continuing the story begun in Rise of the Planet of the Apes. There are some solid ideas in here:
The ideas I've had are all sorts of things, ranging from Full Metal Jacket with apes... you could start this story again eight years from where we left off, the next generation of apes, those that have come from our protagonists, perhaps going in to a conflict with humans and showing real fear, in the same way as going into war for young soldiers in this day and age, telling their story. Or how apes are taking over cities, and being moved into human environments and having to interact with them and deal with things that are part of our culture and understand and evolve through them. Spies that are in the employ of the apes, working against humans and humans maybe existing underground, because that's a way they can avoid the virus, coming up above ground wearing gas masks, and maybe that's what dehumanises them.
Meanwhile, what about that movie that might continue the story that was more or less completed in the eighth season of 24? It's still in the 'maybe/maybe not' stage, according to producer Hwoard Gordon. During a recent Television Critics Association press stop, he said,
There's an institutional desire to do it [...] I know Kiefer wants to do it, we all want to do it. It's just about finding the right script and not just doing it to do it. [...] It's something that I think if it doesn't happen, I will not be heartbroken. I'm very proud of that run and how it ended. It was very hard to get it to the finish line with some kind of grace in closure. Why mess it up? But if you find the right story..."
He did add that any film story would be likely to expand to take place in more than 24 hours. [THR]
Also coming out of a Television Critics Association event, via MTV, are comments from J.J. Abrams about when we're likely to get any reliable info about Star Trek 2, and vague ideas about what the movie might be:
I think within the next month or so we'll be able to tell you what's going on and when and all that. We're working really hard and this is all to make sure that no one — cast, crew, mostly the audience — isn't disappointed by what we do. [...] The odd thing about the first one we did is it was already sort of a sequel in a weird way. It was a reboot, but not. I think the most important thing to remember is that it doesn't matter if anyone has seen the first one or not. It doesn't matter what the first one was, in a way. This has to be a movie that stands on its own. [...] You can't just assume that everyone is going to love the characters because they are played by great actors, or they might have liked the first film. It's really about starting over and at the same time, you really want to make sure you hold onto things that worked in the first one, so it's the obvious stuff.
On a similar tack, Star Trek screenwriters Roberto Orci and Alex Kurtzman told the My Geek Time show (via TrekMovie) about the impulse being batted around for a new Star Trek animated series,
Orci: We have asked about [an animated Star Trek series]. We have asked what the rights are and who owns it and what are the possibilities. It is a very early – kind of "is this a possibility?" and we are waiting to hear back. But we would love to do it.
Kurtzman: We just had the experience of doing Transformers: Prime on The Hub. We learned a lot from that experience and it would be cool to do something like that from Trek.
On the off chance you were worried about whether or not Ray Park would reprise the role of Snake Eyes in G.I. Joe 2: Retaliation, the actor's Twitter feed now clarifies the situation. We'd thought he was back, and indeed that is the case. Park said, "Met the whole cast today 4 G.I JOE 2. Everyone is Awesome! Met The Rock today. He is awesome. I'm a big fan of his. Super nice gentleman!!" [Badass Digest]
Finally, Resident Evil: Retribution will reportedly shoot in Toronto in October. We don't know for certain that Milla Jovovich will return, but that seems likely; Sienna Guillory is the only confirmed cast member at this point. Paul WS Anderson is writing the script. [BD]